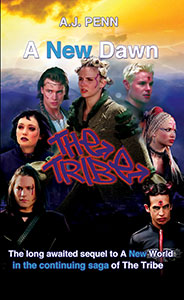 For a limited time only, it is possible to buy an autographed copy of  The Tribe: A New Dawn – the latest and long awaited next chapter in the story of The Tribe!
The author, A J Penn, will be in New Zealand for a period of time in December 2014 and will be able to personally autograph copies of the newly released paperback version of the book 🙂
Your autographed copy will then be sent from New Zealand to wherever you are in the world.  However since New Zealand is so far away from the UK, Europe or the USA (but closer to Australia of course) this means the courier or postage costs are quite high, but unfortunately this is something completely outside our control 🙁
It will be cheaper to obtain a non-autographed physical paperback when it is available from an outlet like Amazon, another online outlet or your local physical bookstore (these books are fulfilled locally closer to the UK, Europe or the USA – instead of from New Zealand).
The Tribe: A New Dawn is also available electronically as an eBook on outlets like Apple iBooks, Google Play Books, Kobo and Amazon Kindle.
We've looked at different ways to see how we can best make an autographed version possible and the only way we achieve  this is for A J Penn to sign copies during the small window of opportunity while the author is in New Zealand, which by necessity means the books have to be then couriered or posted from New Zealand.
We would recommend a New Zealand Post international Courier, which then enables the autographed copy to be tracked and traced from New Zealand (it will also travel faster) but it is more expensive.  If you're not in a rush then there is a 'snail mail' via New Zealand Post International Air Mail as another option, which is less expensive – but it will take longer for the autographed version to arrive (and it cannot be tracked).
Here are the options to order an autographed copy of the book for this limited time while it is available (after which time the non-autographed physical version will continue to be available on outlets like Tribeworld.com, Amazon and other book sellers, as well as as an eBook):
For autographed edition of The Tribe: A New Dawn orders to the Australia
There are two shipping delivery options:
Air mail from New Zealand: the book is NZD 22.00 + add NZD  14.00 for NZ Post Air Mail (please note this is not trackable and may not arrive in time for Christmas).  Estimated target delivery 3-10 working = NZD 36.00
International Courier: the book is NZD 22.00 + add NZD  29.00 for NZ Post International Courier to Australia (please note this is trackable – please click here for deadlines for Christmas mailing dates).  Estimated target delivery 2-6 working = NZD 51.00
For autographed edition of The Tribe: A New Dawn orders to the UK/Europe/USA
There are two shipping delivery options:
Air mail from New Zealand: the book is NZD 22.00 + add NZD  30.00 for NZ Post Air Mail (please note this is not trackable and may not arrive in time for Christmas).  Estimated target delivery 3-10 working = NZD 52.00
International Courier: the book is NZD 22.00 + add NZD  52.00 for NZ Post International Courier (please note this is trackable – please click here for deadlines for Christmas mailing dates).  Estimated target delivery 2-6 working = NZD 74.00
Any Questions
If you have any questions or would like to order an autographed book from Tribeworld.com for delivery outside Australia/UK/USA/Europe then please send an email to contact@entercloud9.com