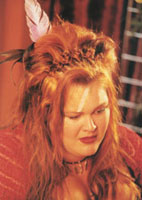 Name
Alice Series Series 2 and 3
Tribe Farmgirls / Mallrats
Biography
As an older sister, Alice is fiercely protective of Ellie. She is fun loving and can be rowdy but deep down she is kind and sensitive and has wisdom, which she offers Ellie and others who need help.
Angry at injustice, Alice has a hot temper. She is a formidable foe but a fantastic friend.
Cast Member
Name Vanessa Stacey
Birthday 7th August 1975
Interests Vanessa's hobbies include theatre, music, singing, writing and directing theatre.
Biography
Vanessa has a wide range of experience in a variety of media.
She has been in several films (The Frighteners, Heavenly Creatures, and Willow).
In the theatre, she has been in Charlotte's Web, Baby with the bathwater, Work in Progress, and the Knitwits.
Vanessa featured in the role of Alice in the first series of the Tribe.
Vanessa has a Diploma in Directing Performance Art and enjoys singing, with a Certificate in Jazz Theory and Performance.