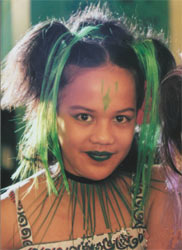 The apartment was small but tidy and Cloe loved her room. She had a beautiful old bed that had once belonged to her grandmother and she loved to sit on it and look out of the window to the building opposite. Her best friend Sylvie lived across the road and they could wave at each other and make silly faces after they were meant to be tucked up in bed.
Cloe relished her time in her room. Her mother Dessie was always at work and Cloe was the one that had to do all the cleaning. So her time alone was precious and she loved having the chance to play with her dolls and pretend to do the cooking without actually having to do it though she was sure it wouldn't be too much longer before Dessie asked her to start making the supper.
Sylvie would invite Cloe around for sleepovers whenever she was allowed and Cloe really enjoyed the time she spent in Sylvie's apartment. Life was different across the road as both Sylvie's parents spent a lot more time at home than Cloe's did and Sylvie had 2 little brothers who Cloe loved to play with.
Dessie did all she could to make sure that Cloe was well-fed and clothed but her job as a check-out girl didn't pay too much and her husband Larry made sure that he spent most of the family income on beer down at the Y.
Larry was a good father when he wasn't drunk. Cloe loved him dearly and didn't mind too much when she would have to clean up his sick-stained clothes. But it was her mother that she idolised. Dessie was everything that Cloe wanted to be. Young and pretty and popular with everyone in the neighbourhood. And boy could she sing! Cloe's favourite time was when she was in the bath and Dessie would sing as she washed her daughter's hair.
Cloe just wished that her mother could be home more often as she wanted more than anything to spend all the time in the world with her beloved mother.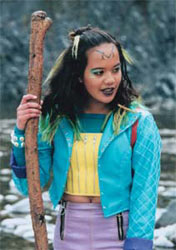 School was good and although Cloe wasn't the best student in the world she did try hard and as a result was popular with the teachers. Sylvie and Cloe had their own group of girls who hung out at lunchtime and played skipping games and hopscotch.
Cloe lived in her own little bubble of school and friends and playing with her dolls. She did not spend much time at all watching television as her father (when he wasn't out at the Y) would take it over to watch the racing. So it struck her as more than a little weird when she first noticed a tank rolling ominously through the streets one sunny summers day.
Larry wasn't too fazed although he was surprised that his daughter hadn't seen any news or read any papers and said that the army had been monitoring the city for a while. Hadn't she heard of the Virus?
Cloe had heard of it because Mrs. Nelson from down the hall had gone into hospital the week before. But what that had to do with the army she didn't know!