The limited edition (and autographed) collector's edition of 'The Tribe: A New World' is now no longer available – but the general release (which is not autographed) IS now available!
Below is an archive copy of when it was possible to order the collector's edition…
Tribeworld is thrilled to announce that the long awaited story of 'what happened next' in The Tribe after series 5 will soon be told!
You can now order a copy of The Tribe: A New World from Tribeworld.com!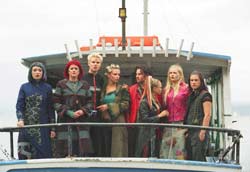 The countdown has started to the pre-release of 'The Tribe: A New World" which will be available exclusively as a special 'pre-release' to visitors of Tribeworld.com and friends of The Tribe's Facebook page for shipment from 9th November 2011 (prior to going on general circulation release in December 2011).
Update!  Pre-orders for the The Tribe: A New World are now being taken on Tribeworld.com so you can sure you are one of the first to obtain your very own pre-release copy… Everyone who pre-orders the book will get a special personally autographed copy!
Find out what really happens to Amber and the rest of the Mall Rats in this new book, the first of many Tribe novels to be released.
The book will also be available in digital e-book versions through many online retailers from December 2011.