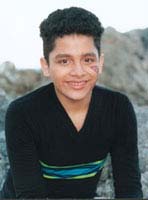 Name
Dal Series Series 1, 2 and 3
Tribe Mallrats
Biography
Immensely sensible and practical. A down-to-earth jack-of-all-trades handyman, who comes into his own in this new environment through his innate ability to scavenge useful bits and pieces.
He makes the things that Jack invents, though, Jack won't admit that Dal is indespensable to his work and thepaire have a slightly comical, love-hate working relationship. A sensitive soul who develops an unrequitted passion for Trudy.
Cast Member
Name Ashwath Sundarasen
Birthday 12th February 1986
Interests Ash likes soccer and singing.
Biography
Ashwath was 12 years old in Series I. He has participated in drama at school, has learned Bharat Natyam (an Indian classical dance) for four years and has also learned Indian classical music.
Ashwath has recently been a member of the children's chorus in a production of Joseph and the Amazing Technicolour Dream Coat that toured New Zealand.