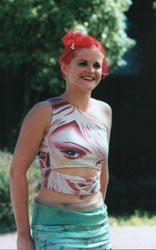 Name
Salene Series Series 1, 2, 3, 4 and 5
Tribe The Mallrats
Biography
A gentle, caring, mother girl, Salene is a natural magnet for all the little ones in distress, though at times she can resent being cast in the role of 'mother', which the rest are happy to typecast her with.
Initially kind and unselfish, her growing attraction to Bray brings all her suppressed emotions to the fore and her friendship with Trudy turns to bitter enmity. Through her growing sense of guilt and lack of self-worth, Salene becomes bullimic, and is only saved from tragedy by the caring Ryan.
Cast Member
Name Victoria Spence
Birthday 30th April 1984
Interests Victoria enjoys singing, dancing and horse riding.
Biography
Victoria was 14 years old in Series I. She has experience as a stills photographic model and has appeared in several television commercials.
Her drama work includes a lead role in The Joker as well as parts in Memory and Desire, Shortland Street, Jack be Nimble and Mother Tongue.
Victoria played the part of Zoe in William Shatner's A Twist in the Tale – The Duellists.
Victoria also had a lead role in Cloud 9's production of Atlantis High.