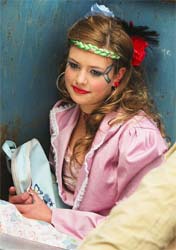 Name
Gel Series Series 5
Tribe The Modes
Biography
Almost thirteen years old, Gel, has been a slave in one of the Techno camps. Freed when the Techno regime collapsed she has wandered back into the city in search of her tribe, the Modes. But they have vanished without trace. Without guidance Gel is a lost soul. She is a born follower not a leader, and has survived since the virus struck by hanging onto others' coat-tails. She is totally self-absorbed, into fashion, the latest look and gossip. In times of danger and crisis, the state of her nails or hair are Gel's prime concern. She doesn't understand or care about the power struggles that go on around her and in the city. All she wants is a quiet ordered life, so she can concentrate on the important things in life; her appearance, her growing interest in 'boys' and having fun.
Cast Member
Name Vicky Rodewyk Birthday 20th November 1988
Interests Sport! Windsurfing, Latin American dancing and ballroom dancing. Cross country running and swimming.
Biography
Vicky joined the cast of the Tribe in Series 5. Vicky is a photographic model and has appeared on tv in Hercules and Shortland St as well as many commercials. Vicky appeared in an episode of Cloud 9's series Revelations.