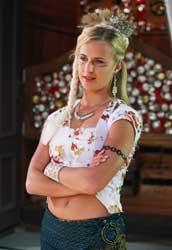 Name
Ruby Series Series 5
Tribe Unknown
Biography
Ruby runs the Saloon in Liberty.
Ruby is independent, quick-witted, humorous, inventive, shrewd and resourceful. She has a whiplash turn of phrase that can cut any fool down to size. However if that doesn't work she's not afraid to back up an argument with her fist. Cross Ruby at your peril. She also has the tenacity of a terrier and a strong sense of "right". She loves language and her cryptic lateral thinking mind has developed a love for crossword puzzles.
Although Ruby is certainly resourceful and capable – for all that confidence she still has a vulnerability and is sensitive to other people's needs as well as to her own.
Cast Member
Name Fleur Saville Birthday 14th July 1984
Interests Horseriding, martial arts, singing and dancing.
Biography
Fleur may be most well known for her role in "Being Eve" which was her first television role. She has played many theatrical roles on stage in The Sound of Music, Charlie and the Chocolate Factory and Oliver.