We had a chat to some of the cast members to see what they thought of Halloween! And there are some photos here of the Tribe cast members in Halloween gear to check out… who do you recognise?…
Q: What does Halloween mean to you?
Jennyfer Jewell (ELLIE): "Candy, parties, all my mates dressing up weirder than usual and having fun".
Michelle Ang (TAISAN): "Dressing up with your bestest mates and making yourself sooooo scared you wonder why you thought it was a good idea".
Dwayne Cameron (BRAY): "Halloween isn't really celebrated in NZ but I still find it very exciting. I'm still a kid at heart".
Ari Boyland (K.C): "Fun, parties and junk food".
Amelia Reynolds (TALLY): "Not much really, just heaps of fun and getting rotten teeth".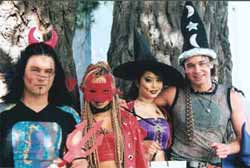 Halloween holiday is observed on the evening of October 31 in most areas of North America and in some areas of Western Europe. The holiday is symbolically associated with death and the supernatural. Halloween falls on the eve of All Saint's Day, also known as Allhallows or Hallowmas, a holy day in the Roman Catholic and Anglican churches.
Q: What is your favourite scary movie?
Jennyfer Jewell (ELLIE): "Barney goes to Hollywood (ha ha)".
Michelle Ang (TAISAN): "I'm a big chicken so basically every scary movie spooks me.
Ari Boyland (K.C): "Nightmare on Elm Street is really cool, all of them".
Amelia Reynolds (TALLY): "The House on Haunted Hill"