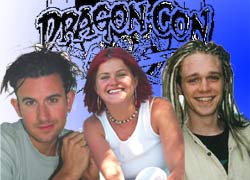 DragonCon is a HUGE event and is sure to be a thrill a minute for everyone attending.
Daniel James (Zoot), Victoria Spence (Salene) and Matt Robinson (Slade) will be appearing at the convention and you can get up close at many different events planned throughout the 4 – day event.
The cast are being accompanied by our very own Emily Willard who will be on hand to take photos and film the event, beaming images and a daily diary directly back to us so that you can see what they have been up to.
TOUR DIARY ONE – 23rd August 2004
We have been getting ourselves ready for a big trip ahead! There has been so much to plan and organize. Costumes to be washed and packed, make-up dug out of storage, luggage tags to be made, itineraries and schedules planned…the list is practically endless.
But the days are counting down now and we are getting really excited! We were sent our flight tickets on Friday together with our costumes and schedules so it all seems a bit more real now. And we can't stop thinking about all those different things we don't get over here like Twinkies and Dr Pepper, not to mention the famous Doughnuts that the other cast told us about from last year!
We can see from the schedule that it is going to be really busy but there are so many exciting things planned and we're looking forward to our first experience of DragonCon.
Check-out the Tribe Track schedule so that you can see where we'll be and what we'll be doing.
And for further information, don't forget to look at the excellent Dragon*Con website.
Keep checking in as we update our Tour Diary with all the latest from Dragon*Con