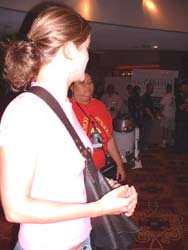 TOUR DIARY TWO – Thursday 2nd September 2004
Wow what a trip! We left New Zealand on Thursday afternoon and flew 12 hours before reaching Los Angeles – a long queue through customs had us running a little late for our connecting flight but we made it! On to Chicago where our flight to Atlanta was delayed due to the hurricane in Florida causing a little chaos. We finally arrived in Atlanta at 11.30pm. After finding all our luggage and meeting our driver we got to the hotel about 12.30am. Waiting for us in reception were the Tribe Track team and Matt Robinson. Lots of hugs and "how ya'll doings" later we got to our rooms and crashed – exhausted!
Friday 3rd September
Up early at 7.30am to shower and have breakfast. We headed on down to the Tribe Track to meet with the Track Director – Dayna Baldwin who ran us through what we could expect over the next four days. The weekend is packed full of interviews, question and answer panels, trivia contests, Tribe screenings and much more.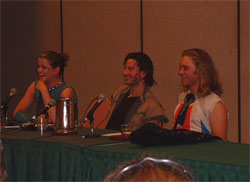 At 10am we had our first press meeting where Webmasters and such gathered to interview the cast. Some really thought through questions and the cast really enjoyed it.
The lobby was starting to fill up with people and already the cast were getting the idea of the Con. Fairys, Storm Troopers, and a close encounter with R2D2 were among the first impressions! R2D2 took quite a liking to Tori.
Next we headed to our autograph table to set up our posters, leaflets and donation box. Unfortunately the Exhibitions hall where the table was wasn't open yet so we decided to stick to the schedule and have our first autograph signing later in the day after more of the Dragon*Con attendees had arrived.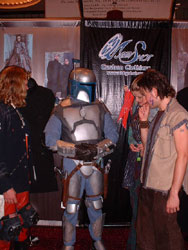 Into costume for the group Q & A panel and the cast felt really great getting into their costumes again. Everything still fitted and the makeup looked great!
Down to the Tribe Track and after a five minute warm up the questions flowed. A few questions that the cast had expected and few that they hadn't! Tori, Matt and Danny really enjoy these q & a sessions and are really intrigued at the depth of knowledge people have in the show.
After that we headed to Atrium Express the little café in the hotel and had some lunch. We chatted to fellow New Zealander Craig Parker who plays Haldir in Lord of the Rings who is also here for Dragon*Con.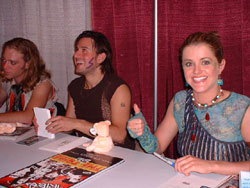 The cast were really getting into the atmosphere of things and we did a little filming of our own in the cast's hotel rooms. Look out for more in the next Tour Video!
At 5.00pm we went to our first autograph session. A long line awaited us but they managed to get through them all and met some really nice people. Everyone here is incredibly friendly and it's such a relaxed feeling throughout the convention that it's easy just to chat to everyone.
Signing session over so we all headed back to our rooms to call family and to change out of costume with a few minutes to spare before heading back down to the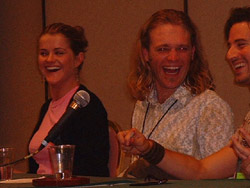 Tribe Track for the Mature Themes of The Tribe panel. We were expecting to get some pretty curly questions and we did! But it was great and it was a great chance to delve into some of the more risque moments and subjects in The Tribe.
Dinner time and we headed to a one of the restaurant/bars in the hotel. Danny was craving a large steak and got just that. Matt had chicken and Tori had fish and chips.
Getting late and knowing we have a big day tomorrow everyone headed off to their rooms. Tori and Matt decided to have a swim before bed and Danny sat in the steam room – his second home.
More from Dragon*Con tomorrow!