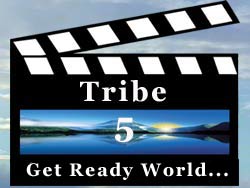 "What is going on with Tribe 5?"
It is a question being asked by many all around the world. There is a huge amount of excitement and anticipation surrounding Tribe Series 5 – what will happen in the storylines? What happens to the characters? Any changes?
We've got some answers below – each week there'll be a look at different aspects that go into making the series – the actual filming begins on 16 October 2002. But before the cameras can start rolling and the actors start acting, there is a lot of work that must be done in preparation. All this activity that is done before filming is known as "pre-production" (as you may know if you've been reading recent location reports).
This report looks at COSTUMES.
Dateline September 17, 2002 – location: Cloud 9 Studios, New Zealand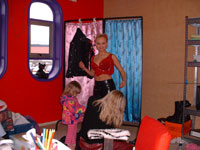 Clothes. We all need clothes. But in television, you don't go to a clothes shop to get your clothes. Instead, the great majority of clothing used in television has to be specifically made. This is for many reasons. Firstly, for a series like The Tribe set in a world with no adults, there is a unique visual look and you can't simply buy ready-made perfect "Tribal" clothes to match the visual look from a shop – they all instead have to be made and customized to reflect the look and direction of the series.
Also, characters change over time – and so do their clothes. Salene starts off in Tribe Series 1 with a certain look but she changes over time – like we all do in real life – and her wardrobe changes accordingly. So right now with Tribe Series 5 looming over the horizon, the busy members of the costume department are working on changing the "look" of some characters, reflecting the different storyline the characters find themselves in Series 5.
Another reason for change is that in real life, the actors or actresses change themselves – they may grow taller, become bigger, lose weight after a diet, or someone might have been working out in the gym and their physical attributes have transformed – all this means there is another reason for the costumes to change, so they can physically fit the actor or actress!!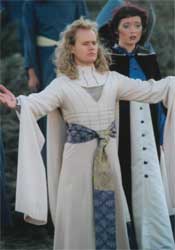 The wardrobe department itself is huge. A character doesn't have just one set of clothes. Usually, several duplicate sets of clothes are made up. This is important. Imagine Damon Andrews (The Guardian) in Series 2. He looks like he always wears exactly the same white robed Chosen costume but this is in fact several duplicate costumes. So when one costume is in the wash, he can have another one to wear to keep the filming going.
Or sometimes, there may be a scene where a character falls in water or goes swimming. If that happens, a duplicate set of the clothing may be made but with slightly different materials to take account of the effect of water on the clothing. Otherwise, the clothes may shrink or become transparent or melt away when exposed to water – which is not a good look if you're trying to film with the clothes for future scenes!!
The costume designer actually "designs" the costumes and has to think what works creatively so the costumes reflect each character's unique personality. There are also practical considerations such as what materials to use. When the costume is designed, members of the costume department then actually make the costumes. They are brilliant and really good at what they do and it is amazing to watch as jeans or a piece of fabric is transformed into a fantastic Tribal costume.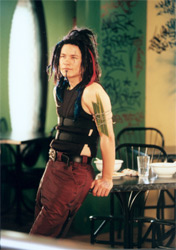 Members of cast will visit the Cloud 9 Studios prior to filming. This is so they can try on their costumes, make sure they fit and everything is comfortable. Any changes or tweaks that need to be made can be done so everything is all set when the cameras start rolling.
The costume department personnel liaise with the hair and make-up teams so a character's "look" is consistent. For example, if there was no liaison at all then the costume may turn out one way, the hair another way, and the make-up look a completely different way. Instead of this happening, it is important for the costume department to bear in mind what the hair and make-up teams will do (and vice versa) so when the "visual look" of the character is completed, the hair matches the make-up and the make-up and hair match the costume.
Exclusive
We've had some sneaky peaks at the costume department and have some news – there are some brand new costumes for some brand new characters. Who are the characters? Well, we can't reveal that yet. It's all top secret and nobody wants to spoil the story for Tribe 5.
But what we can say is this – the costumes look fantastic (as do the characters) and we're quite certain the new characters who join Tribe 5 will make quite an impression – much as Pride did in Series 3, as RAM and JAY did in Series 4.
There'll be another location report looking at a different aspect of Tribe 5 soon.
Until then – get ready world. Tribe 5 is on the way…