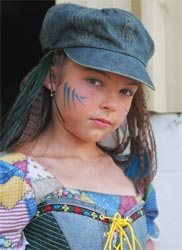 Lottie first heard about the virus when she was 9 years old. She didn't understand the meaning of the broadcast, and was surprised when her mother turned off the radio, calling it fictitious trash. Lottie didn't understand what the big deal was about being sick, or why anyone would lie about it. She had never been ashamed to be sick, even when she was throwing up.
Sickness was just something you did., your eyes squeezed shut, your mom singing just under her breath as she ran her fingers through your hair. And if you were lucky, you'd come out of your illness with brightly coloured paint-streaks decorating your hair.
It was a time when your brothers left you alone, or even carried you steamed chocolate. And your mother stopped her work to crowd close to you and shower you in affection.
Being sick was being able to admit that you can't always stand up for yourself, and letting the family around you do it for you.
….Lottie would have forgotten about the whole strange broadcast if her brothers hadn't begun to tease her about it, telling her when they wanted space that if she came too close, they would cough on her and kill her; telling her when they were bored that if she didn't play with them, they would chase her around until they could prick her with a doctor's needle full of virus.
The virus was little more than a rumour then, not a realistic fear for Marcus and Abbey. …It was hardly anything more than a whisper overheard between strangers, something that only sensationalist tabloid media reproduced, a lie that it would be ridiculous to believe.
Still, the increasingly constant whispers grew deafening.
Abbey's glossy dark hair began to fade and grey, ever so slightly at the roots. Her smiling eyes were overshadowed by her unconsciously furrowed brow.
Even the way she mixed her paints was different. Paints were watered down, muddied together, so that the colours and textures no longer pressed their way out of the canvas, but leaned into it, sullied, morose, resigned.
Abbey seemed wistful and unconscious of the changes in herself or her work.
Nor did she notice the growing quiet of her rambunctious pack of children.
One night, Marcus came home in the late afternoon, helped Abbey cook and settle the kids for the night. It was so early that Lottie and the boys could not sleep. She could hear them stirring privately in their rooms, the clicking of brass as they leaned against and away from their doors. They were doing what she was: listening quietly to her parents earnest voices as they echoed dimly up from the kitchen downstairs.
Something was wrong.
Someone at work was sick. Lottie felt her heart warming for this stranger, remember the times when she had squirmed on the living room couch, trying to inch away from the ache of fever.
But there was more. Lottie didn't understand what they were saying, except that this was a special kind of sick, and Abbey was worried about the kids. At the mention of her name, Lottie leaned harder against the door, causing the latch to click loudly in her ear.
Marcus dismissed Abbey's fears, saying that the sick man had been sent home, he wasn't going to share his sickness, and anyway, the family was safe in their house outside of the city.
Lottie could hear her mother's desire to scream in the strained response she gave.
But the family would be fine; Marcus promised. Everything would be fine.
Things were not fine.
Marcus was soon staying at home with the rest of the family. It was so that he would not get sick, Abbey said, they were all going to stay on their own in the country until the city healed. But Lottie could see that he was tired, more tired than he had been after pulling a 12-hour work day.
Lottie avoided her father. He spent the day sitting upright on the living room couch, not watching television, not connecting to the internet, just sitting. Staring. Watching some invisible spot on the wall. When the kids had tried to talk to him in his first days back home, he spoke so stiffly, as if he was a parent struggling to be polite with someone else's children.
He knew less of the secret lives of his children than his wife did—far less. Lottie felt certain that if she had not been the baby-girl of the family, her own father could not have told her from her brothers.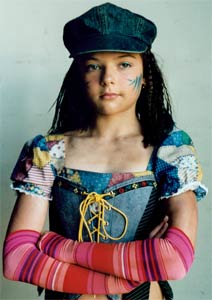 Even Abbey could not capture his attention. She would come in flushed from a day of painting, sit on her husband's lap and throw her arms around his neck. And Marcus would glance at her, for a moment, looking at her mouth without making eye-contact.
Lottie used her secret understanding of the house to manuever around without having to look at him. She would crawl through the spaces under and behind furniture. She pretended it was a game she had made up, but she could never fully remove her discomfort from her mind.
Daddy was dead. Sure he stood up to move from the couch to the dinner table or the bedroom, but there was nothing there. He was empty. Thinking about it made Lottie want to vomit.
It wasn't much of a change when he became actually sick. He was still unpleasant to look at, just in a different way.
Lottie watched her mother paint in blacks, greys, deep browns. She no longer danced to move paint. She would sometimes lift her brush from a can of paint and lean heavily against the canvas, seeming to carry all of her body weight in the brush. She would stay that way for half an hour sometimes, finally reviving herself, and pulling the sticky brush away from the canvas. Sometimes she had to peel off chunks of dried paint to remove it.
Lottie didn't like it.
One day Lottie got so sick of watching her mother's vacant desperation that she decided to do something about it. Abbey felt through her paint. Lottie knew this. It was as if her emotions were stored in cans of paint, rather than in her heart.
So Lottie woke early one morning and hid the parts of her mother that could feel the hurt. She knew the secret crevices in the house. She could slide through the crawl-spaces and push the paint to dark corners that no one else could even reach.
Without paint to feel her sorrow, Abbey would be normal again. Not happy like before, but just neutral. Neutral was better than this.
Abbey didn't even mention the disappearance of her paints. She just changed her routine, spent the days mopping the forehead of her sick husband.
Lottie wasn't relieved when her sick father was moved from the living room to his bedroom. She missed her mother. Felt secretly jealous that her father got to feel the fingers in his hair, hear the whispered songs, nearly drown in love and soft attention.
When Abbey stopped coming out of the bedroom, Michael made it his business to take care of their parents, and police the doorway so that none of the other kids could get in to sit with Abbey and Marcus.
Lottie didn't know how to fix things but she was starting to regret stealing her mother's paints, so she pushed back into her hiding place, dragged the buckets of paint clanking out into the open house, and pulled some furniture up to the tall living room wall. Stretching as high as she could, Lottie swept the wall with bold strokes of sunny yellow and sparkling green. She patted on fistfuls of blinding red and shook on wavering streaks of cool sky blue.
She didn't let herself be bothered as her brothers began to hum about the trouble she would find herself in when she was caught, just crawled inside herself until she could drag out the subject of her painting: happiness.
Finally, with paint flicked, pulled and dripped across her face and clothing, Lottie climbed the stairs to retrieve her mother. Michael stopped her at the doorway to the bedroom. She's not coming out, he told Lottie.
But Michael took Lottie's hand and let her lead him downstairs and show him her still-wet painting.
It's beautiful, Michael told her, squeezing her small hand just a little more tightly.
He coughed–.