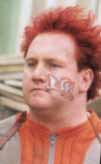 Name
Ned Series Series 3
Tribe Mallrats
Biography
Larger than life, Ned is intelligent and possesses a sharp wit which can make others laugh – or cry out in anger if Ned irritates them (which he often does). Stubborn and headstrong, Ned will seldom back down and always wants his way. Ned has a softer side beneath the rough exterior however – he cares deeply for his younger siblings, Tally and Andy, and is a romantic of sorts.
Cast Member
Name Bevin Linkhorn Birthday 7th November 1974
Interests Some of Bevin's interests include: Acrobatics, Singing (Tenor), Swimming and Golf.
Biography
In 1994/1995 Bevin joined the VUW Dept of Theatre and Film as well as attending a Screen Acting and Auditioning Workshop.
Bevin has had extensive theatre experience in the last 5-6 years including Welcome to Superbial, Questions, Milk, Two Boys.
He has had roles in film, television commercials and television drama as well as theatre.