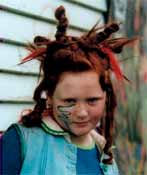 Name
Tally Series Series 3
Tribe Mallrats
Biography
Ned's younger sister is her brother Andy's twin. Like Andy, Tally is very smart and quick to recognise any opportunities that might benefit her – especially from a financial perspective.
She looks up to KC and enjoys the art of the scam. Tally may seem shrewd and selfish but she can also be sensitive and sympathetic to others in need, and seeing this kind side of her often surprises others…
Cast Member
Name Amelia Reynolds
Birthday 24th June 1989
Interests Amelia enjoys dancing, drama, swimming and reading.
Biography
Amelia was 11 years old when filming The Tribe. She is currently attending Nelson Repertory Drama Classes.
Amelia featured in a short film called Murderhouse in 1997 before starring in Cloud 9's William Tell as Tilly.
Tally in Tribe Series III has been her first major role.