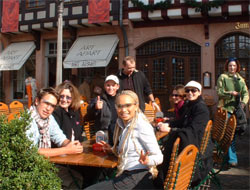 Tribe Tour 2003 in Germany!
The Tribe Tour gang were met by a two hundred plus mob of screaming fans at Frankfurt Airport on Thursday 6th March which marked the beginning of the Tribe Tour 2003. Fans of all ages had driven from villages and cities 3 hours or more outside of Frankfurt and came armed with banners, customize T-shirts and tribal make-up and hair styles and the cast were bombarded with all sorts of wonderful presents ranging from delicious German chocolate to homemade muffins and cakes.
The cast were blown away by the amount of attention they received and the jetlag disappeared quickly amongst all the attention and good vibes from the fans, many of whom Meryl, Michael and Saranne recognized form the 2002 tour.
The cast were delighted to meet so many fans at the book signing in Darmstadt and were amazed to see that the lineup went on and on and on with seemingly no end of screaming fans who had queued for hours just to catch a glimpse of their favourite Tribal characters.
Tom Hern and James Napier are fast becoming heartthrobs in Germany as the Tribe series 4 has just started airing on KI.KA and many fans turned up to the book signing with techno style make-up. Luckily Tom is not as much of a hygiene freak as his alter ego Ram is and enjoyed lots of hugs from the fans that he met!
The cast are having a fantastic time in Germany and have been treated royally by everyone that they have met so far. They can't wait to meet more of you and are always happy to stop and have a chat and sign autographs if you see them in the street or at any of their appearances throughout Europe.
Don't forget to check out the tour page and diary to find out what they have been up to so far and where they are going to be appearing next.
Some of the venues have yet to be confirmed but keep checking in for all the latest news of the tour as things can change quickly and we wouldn't want you to miss out on the chance to meet Meryl, Michael, Beth, Tom, Antonia, Danny and James.
SPECIAL NEWS FROM LONDON
To celebrate the launch of The Tribe Season One in a special 7-DVD set on 24th March. 7 cast members of The Tribe will be holding a signing session at Virgin Mega store.
The Special appearances are to be held on the following dates and places.
Where
When
Time
LONDON
Virgin Megastore,
14-19 Oxford Street.
Monday 24th March 2003
5.00 PM
EDINBURGH
Big W – Woolworths
25 Milton Link
Milton Road
Edinburgh EH15 3QH
Wednesday 26th March 2003
4.00PM
MANCHESTER
Big W – Woolworths
Elizabeth Street
Cheetham Hill
Greater Manchester M8 8BB
Thursday 27th March 2003
4.00PM
BRADFORD
Big W – Woolworths
Victoria Shopping Centre
Thornton Road
Bradford
W Yorkshire BD8 9TP
Friday 28th March 2003
4.00PM
BIRMINGHAM
Big W – Woolworths
St Andrews Retail Park
Greenway St.
Small Heath
Birmingham
W. Midlands B9 4RJ
Saturday 29th March 2003
Yet to be decided.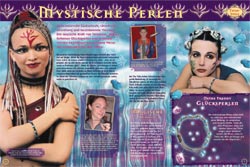 Tribe Magazine!
The second German Tribe Magazine is out now!! The magazine is selling well and fans all over Germany are walking around in tribal bracelets which are included with the magazine as a free giveaway.
The second German Tribe Magazine is jam packed full of free giveaways, giant posters, behind the scenes gossip and exclusive photos that you've never seen before! Including a two page spread on James Napier!
The Magazine is in stores from 6 March 2003 – Fans can bring along their mags to the signing sessions to get them signed by the cast!
The magazine is available to buy in all leading supermarkets and kiosks etc in Germany, Austria and German speaking Switzerland – so look out for it!!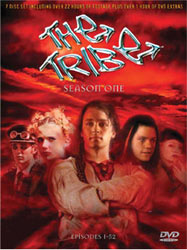 Tribe DVD's!!
The Tribe DVD's are not far away! We've managed to get our hands on some of the box sets and they look amazing! The graphics are fantastic! The DVD's and VHS's as well as having the entire first series also include special features such as The Making of The Tribe, Tribe on Tour 2002 and the first Bloopers video.
Make sure you pre-order your copies as no major Tribe fan will want to miss out!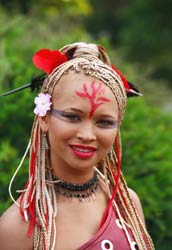 1 Week to Go!
Tribe 5 is due to start airing on Five in the UK on Saturday March 15th 2003 at 12.00pm.
Tribe 5 brings back old characters and introduces new ones in an amazing melting pot of diverse plots, combined with a roller coaster of emotional storylines that will have you fixed to your screen and begging for more!
The countdown has begun!!
Get Ready World…
New on Tribeworld.com!
There's lots of great new articles on Tribeworld this week.
So keep checking out the site! You never know what you're going to find!!!!
Until next week,
Stay Tribal and Keep the Dream Alive…