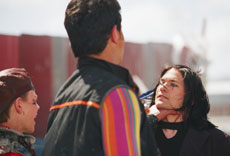 Tribe 5 is here!Tribe 5 started on Five in the UK last Saturday and the response has been huge! Tribe 5 introduces three new characters in the first episode and the storylines are set to blow you away!

The twist and turns around each corner will have you glued to your tv screens every Saturday!

For a sneak preview of the next episode check out the Plot Synopsis.

You can catch Tribe 5 on Five at 11.50am every Saturday!
Tribe Tour 2003 in Germany!
The cast have spent the last 10 days in Germany where they had public appearances and signing sessions all over the country. The response from the fans and broadcasters has been fantastic and the cast are always delighted to meet so many people.
Each signing session saw over a thousand fans eagerly waiting to meet their favourite tv stars with gifts, photos and videos.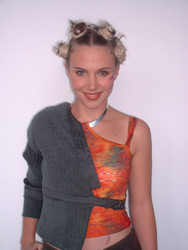 The cast are now in Scandanavia and the Netherlands and will be spending time in Helsinki, Oslo, Copenhagen and Amsterdam before flying into the UK.
Take a look at the itinerary on the Tour Pagehttp://www.tribeworld.com/tribetour to find out where they are and what they're up to.
Click here for the latest "Tour Diary" to find out what they've been up to.
SPECIAL NEWS FROM LONDON
To celebrate the launch of The Tribe Season One in a special 7-DVD set on 24th March. 7 cast members of The Tribe will be holding a signing session at Virgin Mega store.
The Special appearances are to be held on the following dates and places.
Where
When
Time
LONDON
Virgin Megastore,
14-19 Oxford Street.
Monday 24th March 2003
5.00 PM
EDINBURGH
Big W – Woolworths
25 Milton Link
Milton Road
Edinburgh EH15 3QH
Wednesday 26th March 2003
4.00PM
MANCHESTER
Big W – Woolworths
Elizabeth Street
Cheetham Hill
Greater Manchester M8 8BB
Thursday 27th March 2003
4.00PM
BRADFORD
Big W – Woolworths
Victoria Shopping Centre
Thornton Road
Bradford
W Yorkshire BD8 9TP
Friday 28th March 2003
4.00PM
BIRMINGHAM
Big W – Woolworths
St Andrews Retail Park
Greenway St.
Small Heath
Birmingham
W. Midlands B9 4RJ
Saturday 29th March 2003
Yet to be decided.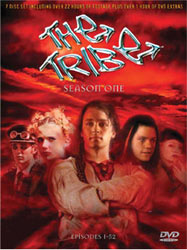 Tribe DVD's!!
The Tribe DVD's are not far away! We've managed to get our hands on some of the box sets and they look amazing! The graphics are fantastic! The DVD's and VHS's as well as having the entire first series also include special features such as The Making of The Tribe, Tribe on Tour 2002 and the first Bloopers video.
Make sure you pre-order your copies as no major Tribe fan will want to miss out!
The DVD's will be in all good stores throughout the UK, Germany and France on March 24th!
New on Tribeworld.com!
There's lots of great new articles on Tribeworld this week.
Plot synopsis of Episode 2 Series 5
NEW Tribe 5 Photos!
Interview – And now for something completely different with Gel
Tribemaster – Tribemaster Intrigued by Mega
Worldview – Dreams
Coming up Next…
* Tribemaster knows a little more…
* New wallpapers
* Tribestyle on Zoot!
So keep checking out the site! You never know what you're going to find!!!!
Until next week,
Stay Tribal and Keep the Dream Alive…