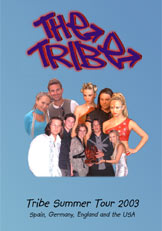 Tribe Summer Tour Video!
We know you're all waiting to get your hands on the latest Tribe Tour Video and now you can!
There are some hilarious moments during this video with the cast certainly enjoying some light hearted moments together. Beth Allen is determined to get a tan while she's away and Caleb is adamant he's not going to get caught out in cricket!
Take a look at the Tribe Fanclub Online Store.
The tapes will be with us later this week so get your orders in now.
Tribe Calendar
We've heard rumours that there is to be a Tribe Calendar put together soon. Full of trivia, cast birthday's and lots more!
We'll let you know more about it soon.
Tribe Fanclub Member Only Competition
Earlier this year we ran a Pre-tribe Story Competition for all our Fanclub members. It was extremely popular and we received many entries. Well look out Tribe Fans because we're going to run a brand new competition exclusive to Fanclub members only. Look out for it in the next issue of the Tribe Fanclub Newsletter.