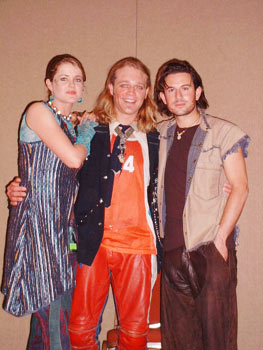 Tribe 5 on WAM!
Tribe 5 is now airing on WAM! in the USA. "The Tribe" season begun its regular primetime schedule on Friday, September 10th at 8:00 p.m. and 8:30 p.m. Series 5 has some fantastic and popular new characters as well as a new town "Liberty". There's all sorts of excitement in the latest series and we're sure you're going to love it!
Dragon Con Photos!
Keep a look out on Tribeworld in the Media section for lots of photos taken during DragonCon 2004. Every two weeks we'll be adding more photos to the gallery!
If you were at DragonCon expect to see some photos of yourself! If you want to you can send us some of your photos and we'll add them to the gallery. Email tribefanclub@entercloud9.com
Plus look out for the next Tour Video which we'll be putting together from all the footage taken during the four day convention.


Tribe Theatre! – Now available to everyone!
Ever wondered what it is really like to be an actor in The Tribe? Ever considered what it must feel like to speak some of those famous lines on stage beforience of hundreds? Have you ever wondered what is would be like to wear an official Tribe costume worn by your favourite Tribe an aude character?
The Tribe, Cloud 9 Ltd and UNICEF have just launched The Tribe Theatre Project.
We have finalised a theatre script, based around scenes from Series 1. You can perform it at your school, youth club or at your local youth theatre group. One day, you could even be appearing in a Tribe production on Broadway in New York or in London's West End. Or in one of a dozen or more capital cities around the world.
The play has been written in association with UNICEF UK, Head of Education, Heather Jarvis. All UNICEF's work around the world is framed by the United Nations Convention on the Rights of the Child, an international bill of rights ratified by all but two countries. The Convention on the Rights of the Child lays down the basic rights of all children and young people up to the age of 18 years, which should be met to ensure their survival, development, protection and right to participate in society.
For more information about Tribe Theatre please visit the our Tribe Theatre page.