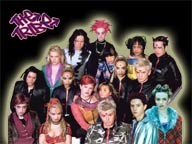 BIG NEWS! – Tribal Gathering in London!
On Saturday 23rd August there is going to be the 1st ever UK Tribal Gathering!! From 11.30-4.30pm you'll have the chance to meet Caleb Ross (Lex), Meryl Cassie (Ebony) and Beth Allen (Amber) for a full day of Tribal fun!
The venue is yet to be confirmed but we can tell you that there will be signing sessions, tribe merchandise, raffles for Tribe Costumes and goody packs, tribal face painting, tribal songs, a Q & A session with the stars plus so much more!
The event is being held in the aid of UNICEF. UNICEF works in over 160 countries and territories to fulfil children's rights to health and nutrition; education; emergency relief; protection; and water and sanitation.
All proceeds from the day will go to UNICEF.
To register your interest and for ticket information please email gathering@entercloud9.com We'll have more information as it's confirmed so please keep checking the news for the latest information.