The First Ever UK Tribal Gathering!
Caleb Ross, Meryl Cassie, Matt Robinson and Beth Allen will be appearing LIVE IN LONDON on Saturday 23rd August 2003.
Between the hours of 11:30 – 16:00 you can spend time asking questions, getting autographs, listening to the music, tribal face painting, a viewing of exclusive never seen before tribal footage, showing off your own tribal designs in a special competition and buying raffle tickets to win prizes such as real tribal costumes, signed scripts and tribal goodie bags. Rumour has it that a couple of the cast might even sing live!
Proceeds from this one off exclusive event go to UNICEF. UNICEF works in over 160 countries and territories to fulfil children's rights to health and nutrition; education; emergency relief; protection; and water and sanitation and Cloud 9 and The Tribe are delighted to host this event in aid of this charity.
Details are still coming in but to show your interest and get some more information, please ASK US!
Tribe Summer Trip 2003
The only opportunity for British fans to see the cast is at the Gathering as mentioned above.
German fans are also in with a chance to see the cast this summer! Beth, Caleb and Meryl are coming to Erfurt to appear on Kikania again! They will only be in Germany for a couple of says so make sure you don't miss out!
Visiting Spain this summer? Well Beth, Caleb and Meryl will be there too! In Madrid for 2 days. Come and greet them at the airport – and catch a glimpse of them as they sight see round Madrid.
And then it's on to Atlanta for DRAGONCON! Check out the official Gathering website where you'll find all the information there is about The Tribe appearance and schedule at the event. More details will be added as information is confirmed.
Dine with the cast!
If you live in the UK and will be attending the Gathering you could be in with the chance to win lunch or dinner with the cast! Meryl, Caleb, Beth and Matt would love to welcome a winner and either a friend or a guardian to have a meal with them on Monday 25th August in London!
Full competition details will be sent out when you register your interest in the Gathering by emailing us!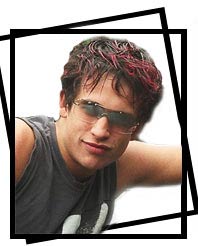 Herndog Competition Winner!
Thanks to all who entered the competiton. And the answer to who is Tom's favourite actor is of course, John Travolta!
Theresa Ameling wins the prize of a personalised Quick Time video clip from Tom himself. And Tom had also offered to take part in a phone call with Theresa!
Congratulations!
Other Tom Hern news
Tom was in the office for the whole week and as well as take part in the busiest live cast chat we have ever run he replied personally to his emails AND filmed some exclusive interviews for Tribeworld which you'll be seeing on Tribeworld soon!