The First Ever UK Tribal Gathering!
Caleb Ross, Meryl Cassie, Matt Robinson and Beth Allen will be appearing LIVE IN LONDON on Saturday 23rd August 2003 at London's Hippodrome at Leicester Square.
We'll be opening the doors at this famous London landmark at 11:30 am, and the action starts with the latest episode of your favourite TV programme at 11.55 am.
After the shows we'll be hosting a Tribe Question Time where you can ask your own questions of the cast. Find out about the latest happenings in their life, and hear about their first trip to The States and Dragon*con.
Make sure you come dressed as your favourite Tribe character – or get made up on the day by our team of experts. There'll be a special competition with a prize for the best-dressed fan!
Come and get your autographs, listen to the latest Tribe music straight from the recording studio.
You can also win prizes with our special UK Tribal Gathering raffle – all ticket proceeds to UNICEF. The charity works in over 160 countries and territories to fulfil children's rights to health and nutrition; education; emergency relief; protection; and water and sanitation and Cloud 9 and The Tribe are delighted to host this event in aid of this charity.
In our raffle you can win prizes including tribal costumes worn on the set of the TV series, signed scripts and Tribal goodie bags stuffed full of exciting things.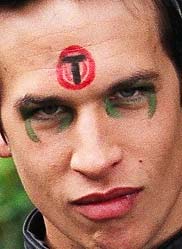 There will be the first, exclusive UK screening of never-seen-before Tribe footage from the European Spring Tour.
Rumour has it that a couple of the cast might even sing live!
Entry to The Hippodrome is by ticket only. To get your tickets, please send a self-addressed, stamped address envelope to:
Tribeworld in London,
Sanctuary House,
45 – 53 Sinclair Road,
London, W14 0NS.
Please state on your envelope how many tickets you require for you, your friends or your parents or guardians who may be coming with you.
Tickets are £5 each – payable at The Hippodrome on the day when you will receive your entry pass! Please do NOT send any money. But you MUST apply for your tickets in advance. Parents come free!
All proceeds from this one-off exclusive event will be donated to UNICEF.
PLEASE check the website before leaving home for the Gathering, should there be any last-minute change of plans.