Christmas Special Gift Packs
We have designed some gift packs for Tribe Fanclub members to order which are at a special discounted price.These will make great Christmas presents or perhaps even as a treat for yourself. We have video sets including the Music Video and CD Rom which is available for a limited time.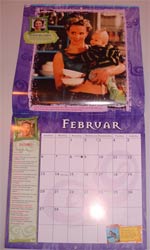 So check out the Tribe Fan Club Store for the new special Christmas order form now!
Click here to visit the TRIBE FANCLUB STORE – exclusive to Tribe Fanclub Members!
Tribe Calendar
The Tribe Calendar is now in stores! The German Tribe Calendar for 2005 is available in all good book stores and kiosks throughout Germany, Austria and German speaking Switzerland.