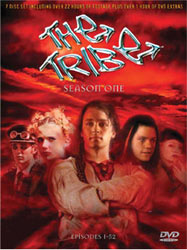 Tribe DVD's and Video's!!!
The Tribe Series 1 DVD's and Video's are being released today!! You can find the box sets in stores throughout Germany the UK and France from March 24th.
The DVD's and VHS's as well as having the entire first series also include special features such as The Making of The Tribe, Tribe on Tour 2002 and the first Bloopers video.
The entire set is fantastic and to celebrate the launch there are public appearances by the Tribe all over the UK over the next week starting today with a signing session at the Virgin Megastore on Oxford Street in London at 5.00pm. Buy the DVD's and Video's and you can get them signed by the cast!
See you there!!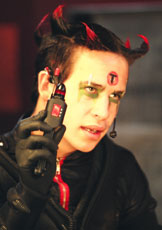 Tribe 5 on Five!
Tribe 5 is well underway and everyone is glued to their television sets every Saturday!
Episode 2 saw Java convincing Ebony to spread the word of Zoot and it heats up even more next week with the Riddler putting Lex through his paces and Ram coming back with a vengeance. Read up on the next episode in the Plot Synopsis section.Catch Tribe 5 on Five in the UK at 11.50am every Saturday.
Tribe Tour 2003
The tour is racing along and there are still two weeks left! Over the past week the cast have been in Finland, Norway, Denmark and The Netherlands doing lots of live tv shows, photoshoots, interview s and meeting lots of competition winners!!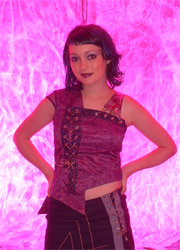 For the next two weeks the cast will be travelling through the UK from Edinburgh to London with publicity all the way! Check out the itinerary on the Tribe Tour page to find out where you can meet them.
Read the tour page and the tour diaries for all the latest gossip of what they've been up to and how things are going.
Happy Birthday James!!
Today is James Napier's 21st birthday!! This morning we had a lovely chocolate birthday cake and all the cast on tour pitched in and bought James a present. Tonight we're going out for dinner to celebrate and we'll have some photos for you soon!
SPECIAL NEWS FROM LONDON
To celebrate the launch of The Tribe Season One in a special 7-DVD set on 24th March. 7 cast members of The Tribe will be holding a signing session at Virgin Mega store.
The Special appearances are to be held on the following dates and places.
Where
When
Time
LONDON
Virgin Megastore,
14-19 Oxford Street.
Monday 24th March 2003
5.00 PM
EDINBURGH
Big W – Woolworths
25 Milton Link
Milton Road
Edinburgh
Wednesday 26th March 2003
4.00PM
MANCHESTER
Big W – Woolworths
Elizabeth Street
Cheetham Hill
Greater Manchester
Thursday 27th March 2003
4.00PM
BRADFORD
Big W – Woolworths
Victoria Shopping Centre
Thornton Road
Bradford
W Yorkshire
Friday 28th March 2003
4.00PM
BIRMINGHAM
Big W – Woolworths
St Andrews Retail Park
Greenway St.
Small Heath
Birmingham
W. Midlands
Saturday 29th March 2003
4.00PM
BRISTOL
Woolworths – Big W
Abbey Wood Retail Park
Station Road
Filton
Bristol
Wednesday 2nd April 2003
4.00PM