The cast are off to Atlanta, USA!

Meryl, Beth and Caleb leave for Atlanta tomorrow and they're all so excited. For some of them it's their first time in the USA and they're really looking forward to catching up with Mikey and Tom as well. Dragon*Con looks set to be an amazing event. Check out the official Gathering website where you'll find all the information there is about The Tribe appearance and schedule at the event. More details will be added as information is confirmed.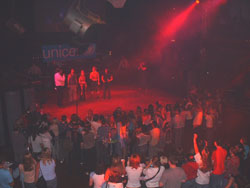 The First Ever UK Tribal Gathering!

Wow! The UK Gathering was amazing! The cast had so much fan and the fans were fantastic. The costumes blew us all away and there will definitely be more gatherings held in the future.
To find out all about the gathering check out the Tour Diary Reports.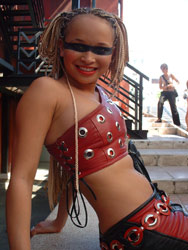 The Tribe in Spain!

Hola! The cast had a fantastic time in Spain and can't wait for it to start airing on the Spanish broadcaster Telecinco. If you live in Spain look out for the first Series to start airing on September 6th at 11.00am. We're sure it's going to be a big hit and we can't wait to visit Spain again soon to promote the series. Take a look at the Telecinco website for more details http://www.telecinco.es
The cast did lots of press interviews and photoshoots with Telecinco and you can read all about their adventures in the Tour Diary. Keep up to date with where they are and what they've been doing and don't forget to check out the Tour Page for all the latest information about where you can see and meet them.
The Tribe Album Re-Mix!

Next month is the official release of the remixed Tribe Album. As well as all your favourite Tribe songs there's some fantastic new ones that you're sure to love. The album is being released in Germany first and we'll let you know where else it will be release as soon as we can. Look out for it!
German Tribe Books!

Two more German Tribe books are due to be released soon and we can tell you that one of them is a new pretribe story of Dal and Amber. The books are selling really well and we're sure you'll want to get in quick! We'll have more information for you soon.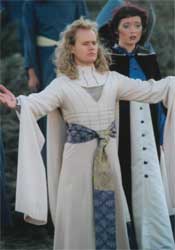 Tribe 5 on Five!
Episode 25 this weekend!! The Guardian is still worshipping Zoot and KC is more than a little freaked out. The self aware computer is learning more and more and if the input of the creator is no longer required then what does this computer have in mind???
To find out more about the latest episodes check out the Plot Synopsis!
Catch The Tribe on Five every Saturday at 11.55am – Don't miss it!!