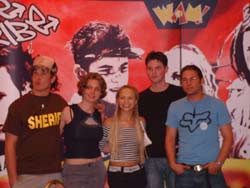 Wow what a trip!

Meryl, Beth and Caleb have been away for a little under three weeks and are now safely home and taking a well deserved rest. They've had the most fantastic time away! Starting in Spain with Telecinco and then on to Germany and KIKA and the Tribal Gathering in London.
And Michael and Tom loved every minute of their time in the USA. According to the cast Dragon*Con in Atlanta USA was one of the most amazing things they've ever done. Find out all about the latest tour by reading the tour diary reports and the Tour Page.
K-Zone Magazine in Europe!
The October issue of K-Zone magazine is expected to feature a photo spread and cast and fan interviews on The Tribe, with photos and interviews taken at The Hippodrome gig in London. The magazine features the coolest stuff around for children and keeping up to date with what's hot and what's not. Also featuring celebrity features, puzzles, competitions, free gifts, posters, movies, TV, music, books and toys.
It will be on sale from 24th September from most major supermarkets and good news agents.
Hola Spain!

Hola! The cast had a fantastic time in Spain and can't wait for it to start airing on the Spanish broadcaster Telecinco. If you live in Spain look out for the first Series to start airing on September 6th at 11.45am. They will be broadcasting one episode every Saturday and Sunday at 11.45am – and it's for an hour each day! We're sure it's going to be a big hit and we can't wait to visit Spain again soon to promote the series. Take a look at the Telecinco website for more detailshttp://www.telecinco.es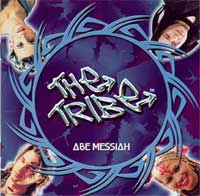 The Tribe Album Re-Mix!

This month is the official release of the remixed Tribe Album. As well as all your favourite Tribe songs there's some fantastic new ones including Tribe Spirit, Reflections, and Urban Guerrilla that you're sure to love. The album is being released in Germany first and we'll let you know where else it will be release as soon as we can. Look out for it in your local music stores.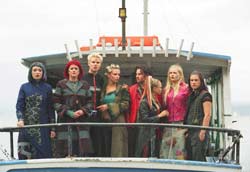 Tribe 5 on Five!
The final episode of Tribe 5 this weekend!!
In the Operations Room, JACK helps MEGA and RAM into Virtual Reality helmets. RAM and MEGA are able to bypass normal control levels neurally and become part of the computer. In VR, RAM and MEGA take on ZOOT. RAM tells ZOOT that he must spare the human race but RAM is hurled backwards. Back in the Operations Room, he falls to the floor in pain. MEGA seems determined to beat ZOOT by himself.
But the battle has been all too much for Mega…
To find out more about the latest episode check out the Plot Synopsis!
Catch The Tribe on Five – Saturday at 11.55am – Don't miss it!!