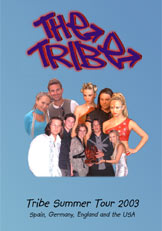 Tribe Summer Tour Video!
During August/September last year Meryl Cassie (Ebony), Caleb Ross (Lex) and Beth Allen (Amber) flew to Spain for the launch of The Tribe on Telecinco. It was a whirlwind trip covering Spain, Germany and the UK where they took part in the first ever UK Tribal Gathering along with Matt Robinson (Slade) who met them in London.
On to Atlanta where Tom and Michael joined the group and one of the biggest Sci-Fi Conventions in the States. An amazing few days interacting with the US fans and being part of Dragon*Con 2003!
This half hour video will be available in a couple of weeks – see what the cast got up to and if you met them on the tour you might even spot yourself!!
We'll have more details for you soon and will let you know when it's available to purchase from the Tribe Fanclub Store.
Tribe 4 in Denmark!
TV2 have announced that Tribe 4 has started in Denmark!
Tribe 4 screens every Saturday at 11.15am. Meet the new characters including Ram, Jay, Ved, Java and Siva.
Check out the TV2 website for updates.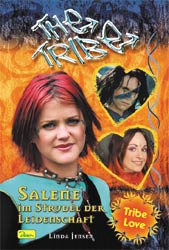 New German Tribe Books!
A new Tribe Book has just been released by Dino Entertainment in Germany and is now available to buy in the Online German Tribe Store!

Book 9 – Salene im Strudel der Leidenschaft
1 man + 2 women = 3 x Love – Are you ready for the unusual?
Salene loses her lover Pride because of the jealousy of her friend May. However, May can't stand seeing Salene suffer because of Pride's death. So she looks after her and makes sure Salene is ok. Is she doing this because she's feeling bad? Is it pity? Or does she have another agenda? Salene doesn't know what to believe. Moreover, she's still not sure of her own feelings. Could it be that she's fallen in love with May?
Plus here's a sneak preview of two more books to come!!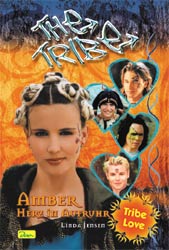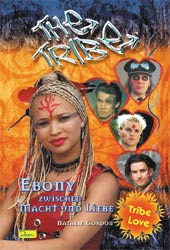 Book 10 – Amber : Herz und Aufruhr
Book 11 – Ebony – zwischen Macht und Liebe
Don't forget we're working on getting all these books published in English!
We'll have more information for you soon!!
Caption Competition
There is a brand new section on Tribeworld! Check out the Caption Competition! Each competition will be open for two weeks and there's autographed photo cards from the cast to be won!
We have thousands of photos from the series and we're sure you're going to enjoy captioning the photos. Good luck!