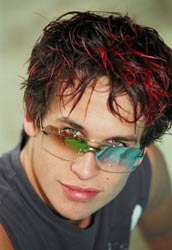 Tribe Fanclub Competition!!
Here's a fantastic new competition for Tribe Fanclub members only. You could win a personalised video greeting from Tom Hern plus a goodie bag from the fanclub.
Just answer this question:
Who is Tom Hern's favourite actor?
Send your answer plus your fanclub membership number or name and address to fancomp@entercloud9.com
We're also starting a new initiative for fanclub members. If you refer your friends to join the fanclub and they enter your name in the form as the person who referred them, both the new joiners and the referrers will be entered into a monthly draw to win a fantastic Mystery Prize Pack. Get your friends to join the fanclub and you could be in to win!
If you refer your friends you must also email us at referrer@entercloud9.com and let us know the names of the people you've referred to join.
Tom Hern to visit Cloud 9!
Tom Hern is spending this week at Cloud 9 on a very special project. It's all hush hush but you'll be hearing about it soon.
So! While he's here we're going to have a Cast Chat on the Bulletin Board! The chat should last for around an hour but may go a little longer.
Here's the time for your country.
| | |
| --- | --- |
| New Zealand | Tuesday 29th July – 8.00am |
| England | Monday 28th July – 9.00pm |
| Germany | Monday 28th July – 10.00pm |
| Finland | Monday 28th July – 11.00pm |
| Israel | Monday 28th July – 11.00pm |
| Los Angeles | Monday 28th July – 1.00pm |
| New York | Monday 28th July – 4.00pm |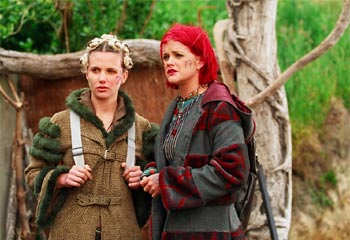 Tribe Fanclub
Are you a member of the Tribe Fanclub? It's absolutely free to join! Here's what you'll get:
1. Regular Tribe newsletters via e-mail each week to keep members updated with all the latest info
2. Competitions exclusive to Fan Club members with special prizes (ranging from autographed pictures to special Tribe goodies like T-shirts, signed scripts from the series).
3. Bonus random prizes for lucky Fan Club members – for example, lucky members (picked at random by our computer) will get a telephone call from one of the cast on their birthday!
4. Opportunities to buy special limited edition Fan Club only goodies and merchandise that is not available to anyone else, anywhere in the world.
5. For goodies that are available to non-Fan Club members, if you are in the Fan Club then you will receive special offers and discounts.
6. You will also get your own personal Tribe Fan Club membership number, that is unique to you.
This is free to join – all you do is fill in a form in the How to Join section of the Fan Club Section