Fanclub Competition – We have winners!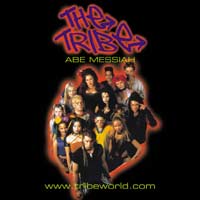 Congratulations to the winners of our Fanclub Competition! We asked you "What name was RAM using when he first arrived in Liberty?"
The answer was – Gabe
The Big winner was – Patricia van der Heyden of The Netherlands. Patricia wins a signed series 4 and 5 postcard set in a special tribal holder along with a signed Tribe poster and a signed copy of the Abe Messiah CD!
The 3 runners-up are –
Katia Schnellecke of Germany
Pam Henness of the USA
Sarah Lyndall of the UK
who each receive three signed postcards and a funky tribal pen!
Congratulations to everyone! There will be another fanclub competition soon.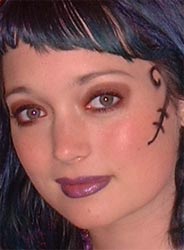 Tribe Saturday!
Tribe Saturday is an excuse for you to have your own Tribal party! You can get a gang of friends around and get your tribal gears and make-up on whilst you listen to the Abe Messiah CD.
There are even facial temporary tattoos that you can wear to help you get into that tribal feeling – we will send these off to you when you have planned your Tribal party and got your guest list together.
Then while you're all watching the latest tribal episode you can tuck into tribal inspired food – the recipes will be on the site.
Prepare for the phone to ring afterwards because one lucky party holder will get a phone call from a Tribe cast member!
It will all be good fun and to get your party under way you can download posters and invitations from the site and check out how you can get your favourite character's look from the special make-up pictures on the party pack page.
The first ever UK Tribe Saturday will be held on Saturday 5th July 2003 so start planning your party now! Send an email to tribesaturday@entercloud9.com for a link to our Tribe Saturday page.
The first 10 Official Fan Club members to send us photos of their July 5th party will win an Abe Messiah CD and a signed postcard for the host and a signed postcard for each of the guests that attended (and are in the picture).
The cast phone call and free tribal tattoos are only available for UK fans at the moment.
Dragon*Con
Things are hotting up and we are busy getting everything together for this huge event.
Don't forget to check out the WAM! and Dragon*Con sites for further information. You could even win a comp where you can meet the cast and hang out for the day! This sweepstakes gives a WAM! fan a chance to win a VIP trip for two to meet The Tribe cast during its exclusive North American appearance.