The New Tomorrow – First Shoot Day!
Today is the first shoot day of Cloud 9's newest series "The New Tomorrow. The call-sheets were distributed on Friday and everyone is very excited that the filming is now underway! The first scenes are to be shot at our backlot in Whiteman's Valley. The weather forecast for today was for rain and hail but so far the rain has managed to stay away. There are 8 main cast on location today and 8 extras.
The Tribe sequel will be available for transmission around October 2005. The series is currently scheduled to air around that time on Channel FIVE in the UK and Network Seven in Australia.
Look out for more news on The New Tomorrow as this latest Cloud 9 production gets underway!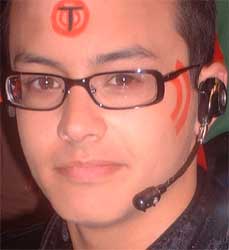 Cast Birthday!
Calen Maiava-Paris (Mega) turns 22 on Friday 3rd June! You can send your birthday wishes to calenmaiavaparis@entercloud9.com and we'll pass them on to him!