Latest News from Cloud 9!
The Tribe movie has now been written and will be placed on the market so keep checking the website for further details and all the latest information. It's going to be huge!
Tribe 6 is still being scripted and planned and we hope to have some more news soon regarding production dates which will determine various transmission dates in various countries. Scripts are looking great and as always there are some exciting storylines!
Discussions are also taking place about a Manga animation version of The Tribe – imagine the possibilites!! And there's also talk of a trading card game. What do you think? Have your say and vote on the poll on the Tribe Bulletin Board – click here!
Tribe Books – New Tribe books will be available in 2004 – there's some great new books planned including one taking a closer look at the Salene, May and Pride triangle.
New Tribe Store! – A new look Tribe shopping element via Tribeworld is on the cards for next year. It will make it much easier to order all the latest merchandise from anywhere in the world.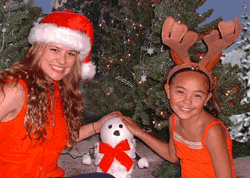 Tribe Tour's in 2004! – 2004 is going to be another big year for The Tribe and that means more tours!! The cast love travelling the world meeting fans from so many countries and you can be sure that they'll be heading your way soon! Contact your local broadcaster if you would like them to visit your country!
Tribe in School! – There are plans for an educational package which will be offered to schools so that students can study The Tribe and all associated themes from democracy to the use of technology… everything and anything to do with rebuilding a new world.
MERRY CHRISTMAS!
Raymond Thompson and all the Cloud 9 team would like to wish all Tribe Fans a very happy Christmas and peaceful new Year.
Don't forget to check the website over the holidays which will be updated during the break.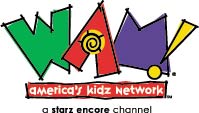 Get Tribe 5 on WAM!
We've had a lot of emails from fans wanting to see the fifth series of The Tribe on WAM! in the USA. The best advice we can offer is to contact WAM! and let them know how much you want to see it! There's a few petitions being collected so have your say!
Send them an email – wam@starzencore.com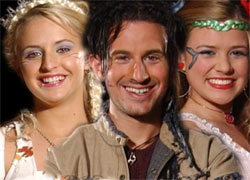 Tribe 5 in Germany!
Great news from KI.KA in Germany – the fifth season of The Tribe begins screening at 4:25pm on Monday 5th January 2004.
Yay! That means that you will get to see all the new characters that a lot of fans have been raving about – Slade, Ruby and Gel to name a few.
There are some great plot twists, some love triangles, interesting developments and a new town to keep you glued to your TV sets. Emotions run high in this series – are you ready for it?
Tribe Tour Videos!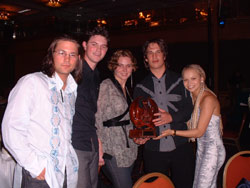 We had a whale of a time on our last whistle stop trip to Spain, Germany, England and the USA. We had our cameras with us and filmed everything that moved – and that even includes some of you guys!
Our editor has been hard at work putting it all together and after Ray has had a look and given his approval we will be able to bring the video to you.
We anticipate that this will be early in the New Year so keep a look out for it – there are some great moments and it's one of the only chances you'll get to see what life is really like for your favourite cast members of The Tribe.
Carrying heavy suitcases, getting up at 5am and working until late – ah, it's not all glamorous that's for sure. But there are plenty of laughs – and a chance to see some of the crazy characters we met at the DragonCon convention in Atlanta, USA.
.