What was life like before the Tribe?
Did any characters know each other? What did they look like? What was it like when the "virus" appeared and started to change society?
How did Zoot become Zoot and start the Locos?
You will find the answers to all these questions and much more in Pre-Tribe, which looks at life before the virus and before the Tribes…
Series 2 of the Tribe includes back-story elements that show how some of the Tribe characters knew each other in the 'old days' at school – from how Bray and Zoot grew up and lived, to how Zoot met Trudy.
There are also some intriguing insights into Bray and Ebony's relationship – and especially the events leading up to Martin becoming Zoot, events which were destined to change the destiny of the Tribe forever.
Pre-Tribe is the place to find exclusive information and pictures from Tribe Series 2 like right now…
We have been authorised to publish the very first public photos of Series 2. At the top of this page you can find a photo of Trudy's classroom and teacher before the virus.
And below is a picture of Trudy as she looked before the Tribe when she was still at school and living at home with her family before the birth of Brady, and before she met Zoot…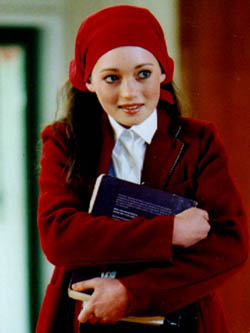 Pre-Tribe is going to have in-depth features and information about characters, their relationships, if they knew other characters who they would meet again in the Tribe, what their families did, how they looked before the Tribe. Different events and developments will also be looked at such as important incidents and stages in the spreading of the "virus". There will be clues and hints as to how the old adult world disappeared and info on how the world of the Tribes emerged in its place. There will also be stories and articles featuring different characters in the Tribe that will be revealing and show how they lived before the Tribe.
More photos and info will be here in the next Pre-Tribe, as well as exclusives about the back-story elements from Tribe Series 2.