Over the last few 'pre tribes' we have taken a look at the many mysteries surrounding the Tribe – from Pandorax, the virus, the President's broadcast, and more! This week we take a look at what might have happened if the Mall Rats had celebrated Christmas together.
The first Tribal Christmas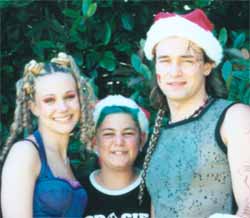 The Mall Rats might have celebrated Chistmas in the early days. They had developed a relationship with each other and were the closest thing to a family that any of them had at this stage in their lives. This week we will take a look at the way they might have celebrated their first Christmas in the world of the Tribe.
The lead up to Christmas…
Andy and Tally had been out playing in the streets near the Mall. They were trying to keep out of the way of Lex who was bored and looking for someone to tease and bully. Life had been unusually quiet recently.
The Chosen had started to venture further afield in to the countryside to find new recruits. The Guardian was convinced that he had received a message from Zoot which said that he was to go to a barn and search for a sign hidden in the hay. The Guardian was sure that this sign would lead the way to a new beginning for the followers of Zoot and he set off immediately in search of the barn that had been in his dreams.
Ned and Alice were being really embarassing, kissing and cuddling all the time. So were Bray and Amber. May was trying hard to get Pride's attention and Luke and Ellie had finally found love.
Andy came across something in the road. It blew straight towards his feet in the bitter wintry wind and he saw at once that it was an old Christmas card. He was so excited! Something from the old world, something that instantly brought back all those memories of family times and happiness. Andy showed the card to Tally and they both decided that they should take it to Alice. After all, Alice was always willing to get involved in their little projects and they were sure that she wouldn't let them down on this. It was too exciting, too important just to forget. They would take it to Alice straight away.
Alice was in the café, preparing a little snack for her and Ned to take somewhere romantic. She certainly was not prepared for what was about to happen! Andy and Tally threw themselves at her and begged her to let them have a Christmas. It was December after all and everybody needed something to focus on, something to pull them all together a bit more.
Alice was against the idea at first. Too many painful memories were starting to resurface but in the end she couldn't resist the sad puppy dog eyes that the kids were loking at her with. Maybe they were right, maybe this was what everybody needed after all.
It took a fair amount of organising. There wasn't much food around and Alice really didn't think that anyone would want to find or make presents to give to each other.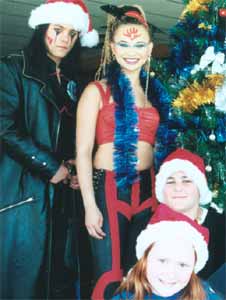 But she was wrong. The gang decided that it was a great idea. They all started to hunt around for things that could be turned in to presents. Evrybody pulled a name out of a hat and had to find a present for that person. Even Lex.
The Mall Rats thought that they should celebrate on Christmas Eve. They didn't really want to carry on the festivities over a couple of days because they thought that the city was still too unsafe and that the Guardian could reappear at any given moment and ruin their plans.
CHRISTMAS EVE
The day of December 24th was a busy one. KC had managed to find some items that resembled decorations and hung them around the Mall. Pride gathered together some holly and ivy from just outside the city and strung them through the railings on the stairs. Luke got hold of some food from the Chosen warehouse and Alice and Salene rustled up a meal out of it. Amber helped the kids to find some old bits and pieces to turn in to tree decorations to put on the tree that Bray had found in the forest. Ellie, Ned and May gathered presents for the kids. Even Lex got in to the Christmas spirit and contributed some drinks – non-alcoholic ones that he had been storing.
As darkness fell, everybody wrapped up and gathered on the roof of the Mall to gaze up at the stars. They each made a silent wish and then told the gang about a special memory they had from Christmas' past. Everybody got a bit teary eyed and went back in to the Mall for their Christmas feast and presents under the tree.
After dinner, Amber told a story of the history of Christmas and Bray spoke of how things could be in the future if they all worked together to develop what they had.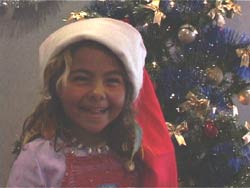 KC played some music and everybody gathered together by the fountain to dance the night away. The kids went to bed, tired but happy and ready to face another day in the harsh world of the Tribe.The rest of the gang enjoyed their evening of dancing and eventually settled down to snuggle up in their couples and to talk about what they missed and what they hoped for the future.
When things got a bit emotional again, Alice started to sing a Christmas song, "Silent Night" and the others could not help but to join in. They stood together as one, united by their loss and their circumstances.
A family of sorts thrown together in a world where anything could happen, did happen. Unsure of who to trust, who to love and who to believe in, for the moment at least, they were content just to have each other. The only certainty in an uncertain world.