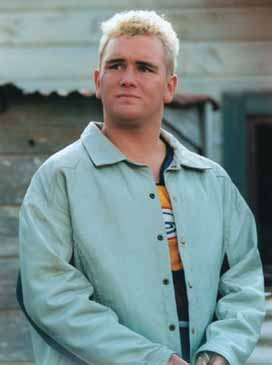 Name
Ryan Series Series 1, 2 and 3
Tribe The Mallrats
Biography
Lex's sidekick and battering ram in any rough-house situation. Big, hard and slow-witted, Ryan is totally under Lex's thumb. His slowness and naivety maska genuine, caring and sensitive soul, capable of enormous love and loyalty, particularly to Lex's girlfriend Zandra.
A rather sad, comic character, with a naive belief that somehow life will return to normal. He keeps a stash of (useless) money for when that time comes.
Cast Member
Name Ryan Runciman
Birthday 22nd November 1982
Interests Ryan likes rugby, hanging out with friends and partying in the weekends!
Biography
Ryan was sixteen years old in Series I. He has acting experience in a variety of media.
He has had roles in film, television commercials and television drama as well as being experienced in voice over work and stills photographic work.
Ryan is also a trained singer and tap dancer. Ryan played the part of Darren Hunt in the Duellists, a screenplay in Cloud 9's previous production, William Shatner's A Twist in the Tale.