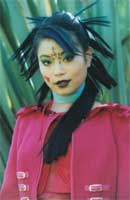 Name
Tai-San Series Series 1, 2, 3 and 4
Tribe Mallrats / Chosen (The Supreme Mother)
Biography
The mystical, spiritual figure of the group. A practitioner of alternative healing, and a great story-teller and weaver of myths for The Tribe.
Tai-San can be somewhat aloof, very sure of her own beliefs in her own world. Her persuasive powers and zealous conviction in her own morality can be an irritant to some of the others, especially Amber who accuses her of meddling with others emotions.
Cast Member
Name Michelle Ang
Birthday 17th October 1983
Interests Michelle enjoys ballet, shopping and hanging out with friends.
Biography
Michelle was 15 years old in Series I. She is a trained ballet dancer. She has been a guest artist with the New Zealand Royal Ballet, having danced for them in Giselle, The Nutcracker Suite and Romeo and Juliet.
She was a member of the McDonald's Young Entertainers Super Troupe.
Michelle made her television drama debut in Cloud 9's previous production William Shatner's A Twist in the Tale – The Green Dress.