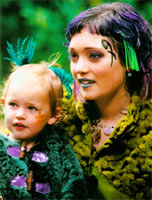 Name
Trudy / The Supreme Mother Series Series 1, 2, 3, 4 and 5
Tribe Mallrats, The Chosen
Biography
Arrives pregnant and needy on Bray's arm. When the others wrong assume the baby to be Bray's, Trudy, who is keen on Bray, doesn't disabuse them. Initially self-centered, jealous and agressive to anyone who shows interest in Bray, Trudy descends into paranoia and despair as her hold on Bray slips.
But after a failed attempt at suicide, Trudy gradually pulls herself together, developing a sense of purpose and direction, and becoming a good mother to her baby daughter.
Cast Member
Name Antonia Prebble
Birthday 6th June 1984
Interests Netball, dancing, movies, sleeping, going to parties with friends.
Biography
Antonia was 14 years old in Series I. She last appeared for Cloud 9 as Jem in A Crack in Time in the series William Shatner`s A Twist in the Tale.
Prior to this Antonia played the lead role in the television drama series Mirror Mirror. She has theatre experience having appeared in Starchild in 1994 and The Magical Kingdom of Thingymijig in 1993.
Antonia studied ballet for 8 years and also plays the flute, the recorder and guitar.