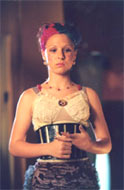 Name
Zandra Series Series 1
Tribe Mallrats
Biography
Attractive but dizzy, an unintentionally amusing figure. Zandra is a fashion junkie, who spends most of her time gossiping or experimenting with different makeup and designer clothes.
She lives in her own fantasy world, avoiding the harsh realities of the world around her. She is very resentful at having to help with chores, which might spoil her nail varnish. But at heart, she is kind and so avoids being shunned by the other girls, who can be exasperated by Zandra's vanity and self-absorption. She is besotted by Lex, and is unable to see his obvious failings.
Cast Member
Name Amy Morrison
Birthday 18th July 1984
Biography
Amy was 14 years old in Series I and has had a variety of experience in front of the camera. She has appeared in a number of television commericials and has had roles in Shortland Street and Hercules.
Her film work includes The Joker and Jack be Nimble.
Amy played the part of Jessica in Jessica's Diary, a screenplay in the Cloud 9 series William Shatner's A Twist in the Tale.