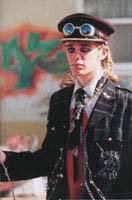 Name
Zoot Series Series 1 plus guest appearances in 2, 3, 4 and 5
Tribe The Locos
Biography
Manic, dangerous lead of the The Locos, one of the warring tribes that roam the city.
Driven, despotic and ruthless, Zoot uses his innate capacity for violence and terror to keep control in the anarchic world around him.
Cast Member
Name Daniel James Birthday 3rd October 1981
Biography
Daniel was 17 years old in Series I of The Tribe and has made guest appearances in each of The Tribe series. He has a range of experience in television including roles in Xena and Hercules.
He was a member of the cast of Cloud 9's Enid Blyton Secret Series in 1996. Daniel has theatre experience including roles in Auckland Opera's productions of Carmen and The Magic Flute.
He has recorded a variety of voiceovers and has appeared in several television commercials.