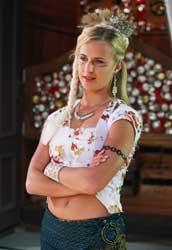 Naughty or Nice?
This is a chick who looks like she has come from the right side of the tracks. She has a certain elegance about her and seems to care a lot about her looks.
Perhaps she was a teen beauty queen and hopes that her good looks and sense of style will help her get by in tribeworld?
But then she does have a tattoo – and isn't that something that naughty girls get done?
Perhaps this blonde beauty has a side that she likes to hide – or maybe she has a dodgy past that needs to be covered up?
It could be that Ruby has taken on the persona ofa rich kid and that she really comes from the wrong side of the tracks?
Hair and where?
Ruby's hair is less coloured than that of other tribal gals and maybe this is because she is more of a natural person, not wanting to be 'out there' with her look.
But although there she hasn't gone for a fiery red or a passionate purple, Ruby does look like she has to spend a lot of time styling her intricate hairstyle.
Whatever the reason she has a hairstyle like this it doesn't look like Ruby is a member of the Technos or the Mosquitos. Certainly not the Demon Dogs or the Locos. But maybe she is a member of the Mall Rats – they embrace different styles.
Perhaps she doesn't want to pledge her allegiance to any particular Tribe at all, preferring to be a loner. After all, there can't be that many tribes out there who wear such stylish clothes.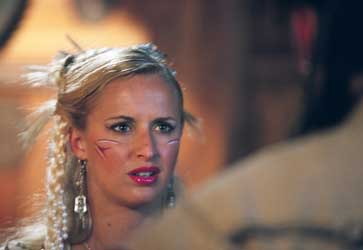 Love's Labours Lost?
Ruby doesn't look too happy – has she fallen out with a lover? Or is she trying to keep herself safe? Is it someone from a dodgy past or someone she hopes to spend her future with?
Maybe it's nothing more than a minor disagreement with someone who lives near her. Or it could be a family member?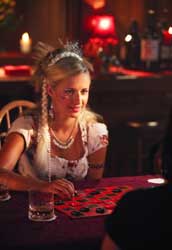 Or is she a player?
Time to play games? This tribal lass can't have that much to do. Is she in hiding and needs to pass the time somehow? She looks to be quite a confident person and certainly has her opponent playing into her hands.
Maybe it's not checkers she's interested in. This graceful lady might be more into winning hearts and with her sense of style and elegance it looks like she could have any man she wants!
Another Tribe Style coming soon.