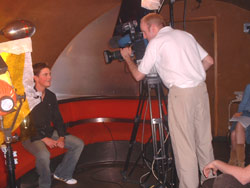 Michael in the hot seat!
Dear Tour Diary,
An earlyish start for some of us – Meryl, Tom, Michael and Beth started the day at 9.00am when they headed off to an interview day with Five. A location shoot was set up and each cast member was interviewed for around half an hour with questions that had been sent in by fans.
Danny, James and Antonia arrived a little later for their interviews and then each cast member did a character profile on screen.
The makeup artist was one that we had worked with on last year's tour and she's fantastic. The girls all had a great time digging through her suitcase of makeup products and Emily and Saranne got a makeover too!
The location was in Covent Garden so while the cast weren't being filmed they were shopping!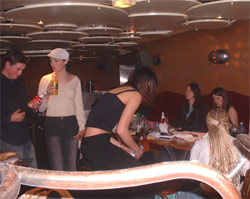 Relaxing in the Green Room
between takes
The girls went makeup shopping. Tom, Michael and James went clothes shopping and Danny went to a music shop to look at guitars.
Then it was back to the hotel for dinner and to pack for tomorrow as we have a 5.00am start !!. After dinner Toni and Beth were watching a bit of tv and spotted a program called TV Specials which had some Tribe bloopers on it – a great laugh before bed.
See you in Edinburgh!!
The Touring Tribe
Bringing the Dream to the World