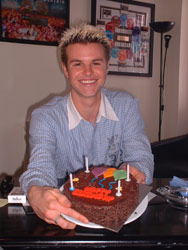 Dear Tour Diary,
We all woke up well refreshed and headed for the Cloud 9 office in London for a briefing meeting of the next couple of weeks. We had a lovely breakfast at the office and celebrated James' birthday with a cake and a few pressies.
Then it was back to the hotel to have lunch and get ready for the signing at the Virgin Megastore.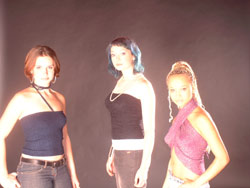 The girls got ready and headed off for a "girls only" photoshoot with Sunday People Newspaper. It went really well and the photographer was great. There were some great shots and everyone really enjoyed themselves.
We all met at the Virgin Megastore where we hurried in the back entrance. We were all really excited and a little nervous at doing our first UK signing but the atmosphere was fantastic.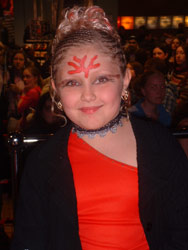 The crowd were great and the set up was perfect. We were all seated on a big stage and The Tribe music was playing in the background. We met heaps of fans, some of whom we recognised from previous meetings. A lot of the fans had bought the box set of DVD's and got them signed by the cast.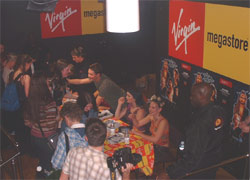 Then it was off for a birthday dinner for James. We went to a lovely Indian Restaurant which served the most wide vareity of curries we'd ever seen. James was rapt because they had a large selection of vegetarian dishes.
Back to the hotel and to bed ready for a full day with Five tomorrow.
The Touring Tribe
Bringing the Dream to the World