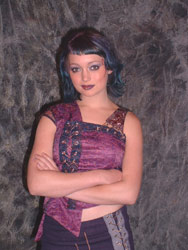 Dear Tour Diary,
Saturday 22nd March 2003
Copenhagen (Group 1 – Beth, Danny, Tom, Michael and Saranne)
What a way to start the day! It was great to be able to look out and admire the view of the canals of the city and after a nice breakfast, Saranne and Beth walked to a local shopping centre where they had a fantastic time checking out the fashion. Then it was back to the hotel to see if the guys had woken up yet after a mammoth sleep-in. Michael was up and about and went out with his cousins who live in Denmark. Tom was still sleeping like a baby so Danny joined Saranne and Beth as they went to the town and checked out Madame Tussauds Waxwork Museum. Then it was lunchtime at a really cool place called Rosie McGees. Beth decided to cruise around the town a bit more but Danny and Saranne went to see a movie because it was so cold outside! After the movie (Gangs of New York), we all met up again and had dinner together before heading back to our rooms to pack our cases once again and fall asleep whilst looking at the lights across the canal.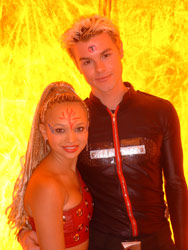 Sunday 23rd March 2003
Copenhagen – London
An early start and a whole heap of pancakes and we were on our way to the airport where we checked in and then checked out the shops.
We bought James some lovely aftershave for his 21st birthday tomorrow and then got on the plane.
We arrived at Heathrow Airport in sunshine and warm spring weather, which was a pleasant change after the chilliness of Scandinavia and the Netherlands.
We were really pleased to see so many fans at the airport and recognized some from last year. It was amazing to us to think that some of these people had traveled for hours just to come and see us! We really appreciated it and had a good chat with them before we jumped into our bus and headed into the city. We checked into the hotel and had just ordered our lunch when the other group arrived and it was as if we hadn't seen them for a month there were so many hugs and so much to catch up on!
Meryl, Beth, Tom and Michael went out shopping whilst the rest of us made the most of the sauna and steam room and had a bit of chill out time and then we all met up again and headed to a local pizza place for dinner and a good laugh.
Then it was time for bed as we have a busy day tomorrow. We're all really excited about the DVD release and the big in-store that we're doing at the Virgin Megastore in Piccadilly Circus at 5pm. Hope that we see a lot of you there!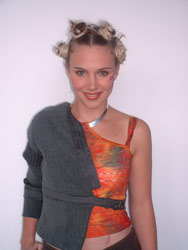 Saturday 23rd March 2003
London (Group 2 – Antonia, Meryl, James and Emily)
After a much needed sleep in we met for breakfast and decided to do some shopping in Oxford St.
Top Shop was our first destination and we all shopped up large. The fashion over here hasn't reached New Zealand yet and it's great to go home with all the latest styles. All the girls loved it and James did a bit of shopping for his family uying lots of toys and games.
We spent a good couple of hours shopping and then headed back to the hotel to meet up with Group 1 who were arriving in the early afternoon. It was great to catch up and each group had lots of stories to tell about their time apart.
Later in the afternoon some of the group went shopping and some just relaxed at the hotel. We all then headed to a local pizza place for dinner and then we were ready for an early night. A big day tomorrow and we can't wait to see you all at he Virgin Megastore!!
The Touring Tribe
Bringing the Dream to the World