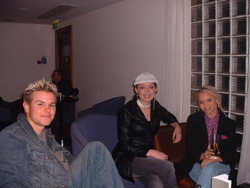 Relaxing in the hotel lounge
Dear Tour Diary,
We woke up and had breakfast at the buffet in the Hotel and then packed our bags and headed for the airport.
There were fans at Amsterdam airport to wish us bon voyage and they also helped us get around the airport because it was quite confusing.
Amsterdam to London took about 1 hour and we were greeted by fans at Heathrow as well. They had gone to so much effort to see us and some of them had dressed up in tribal clothes and makeup – it was great!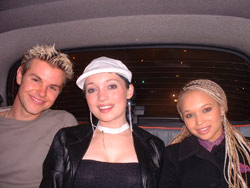 On our way to dinner.
Some of the fans we recognised from last year and it was great to see them again.
We then caught a taxi to the hotel. We all really love London taxi's – they're such an icon and we don't have those sort of taxi's in New Zealand. So here's a picture of us and a London taxi!!
Once we'd checked into our hotel the girls were very keen to do some shopping! Meryl loves shopping! We had a quick lunch and then we headed for Kensington High St. The shopping was great and everyone managed to find something.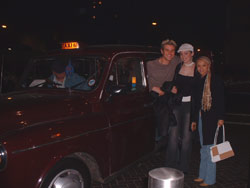 Us with a London taxi!
After a bit of retail therapy we were in good spirits and we came back to the hotel to unload our bags and then head out for dinner.
We went to a great restaurant in Mayfair which had been recommended to us. The food was lovely.
Then it was back to the hotel for a well needed rest and an early night. We have another day off tomorrow and we can't wait for the signing in Oxford St on Monday!
The Touring Tribe
Bringing the Dream to the World