Dear Tour Diary,
21st March 2003 – COPENHAGEN (Beth, Michael, Danny and Tom)
We all had the best night's sleep ever and the beds at this hotel must be the most comfy we have come across so far. So, a few of us slept in a little before we got into our cossies and headed off to the TV station of TV2 in Copenhagen.
We appeared on the Bugs Bunny Club show, which will air on March 30th and we had a great time. The set was really colourful and the presenter was a Danish icon, Bobo. He was good fun. There was a live studio audience of young children who thought that Tom looked like the winner of the Danish Pop Idol show, John. So Tom got to sign even more autographs than the rest of us although his character hasn't been shown on Danish television as yet!
In the green room we got to meet the group Big Brothers who are from London and are on a promotional tour of Europe and the Netherlands themselves. They seemed like really cool people and we got to watch them rehearse their latest song on the Bugs Bunny Club.
Then it was time to head off to lunch at the Cafe Ketchup with 2 lovely competition winners and we had a great meal. While we were there we were interviewed by a journalist and had some photos taken.
After lunch we headed over to the TV2 offices where we took part in a live web chat with webcam and that was a real laugh, particularly because we're not the best typists in the world!
Then it was back to the hotel to get changed into our normal clothes before we went out into Copenhagen and had dinner out by the waterfront.
It is so cold over here, the coldest day they have had in ages so we were definitely glad of our warm tour coats!
Back to the hotel again to watch the news together before bed. We are obviously greatly concerned about the War and our hearts go out to all those who are affected directly by it.
As we slept in our cosy beds we counted our blessings and felt so lucky to be in the position to bring some hope and joy to people over on this side of the world at such a tragic time.
(photos from the day coming soon)
21st March 2003 – AMSTERDAM (Meryl, James and Antonia)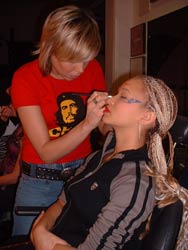 Meryl gets her makeup
done in Amsterdam
We all had a fantastic sleep and were up by 8.00am. After breakfast we were picked up and taken to a photoshoot with "Hikrant" magazine which was really cool. They had two makeup artists that used some really cool airbrushes to do our makeup.
We all had individual photos while the others had an interview and then we did a group photoshoot. The photographed used some crazy coloured drops for the photos and the photos are fantastic!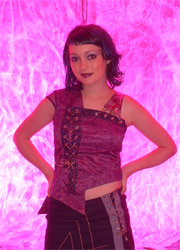 Toni in pink!
After that we went back to the hotel to have lunch (which was delicious) and then it was interview time!
We had interviews and photoshoots all afternoon with different magazines including GPD, Break Out, Tina, Girlz!, Troskompas, Spits!, and Fancy. The interviews were great and we got asked some really interesting questions as well as the whacky!!
We had dinner in the hotel restaurant and then checked our emails and phoned home to keep them up to date with what we've been up to.
We fly to London tomorrow – yah!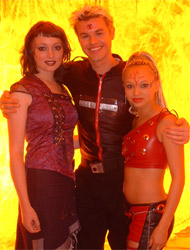 Group photos with
Hitkrant magazine!
The Touring Tribe
Bringing the Dream to the World