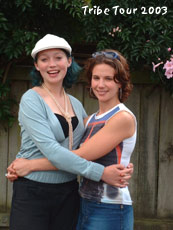 The Tribe Tour 2003 is going to be the biggest tour yet by the cast of The Tribe – Michael Wesley Smith, Danny James, James Napier, Meryl Cassie, Beth Allen, Antonia Prebble and Tom Hern will be travelling throughout Europe during March 2003 – Check out where they're going and what they'll be up to right here!!
The cast are packing their bags and there's only 2 days to go now!
The cast are having a stopover in Singapore on their way to Frankfurt and are really looking forward to getting some shopping in at the airport.
When the cast arrive in Frankfurt they are going to be met by a television camera crew and all fans are invited to meet the cast at the airport! They are arriving in Frankfurt on flight SQ326 @ 7.00pm.
And of course you can check out the Tribe Tour page for the itinerary and meet the cast coming in on their other flights!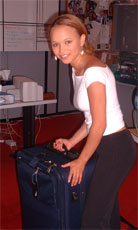 The cast will then be travelling to Finland, Norway, Denmark and The Netherlands! And then it is off to the UK for a signing session extravaganza around the country! Plus they'll be making a fleeting appearance in Scotland!
Congratulations to our competition winners! Eberechi Nwoko of Battersea, London – Ben Ross of London and Kate Lapage of Southampton. They'll be having dinner with the cast at a restaurant in London!
And the winners of our German Tribeworld Competition – Brid Christoffers from Berlin will be accompanying the cast to a photo shoot and getting their tribal makeup done by one of the team. And three more winners Lena Nielinger from Kamen, Antina Agungbemi from Berlin, and Saida Rößner from Berlin will be having dinner with the cast in Berlin!
Check out your local broadcasters website for more competitions!