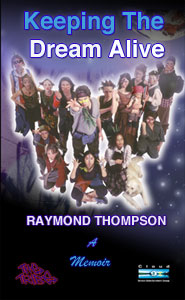 It is no longer possible to order the collector's (and autographed) copy of 'Keeping The Dream Alive' – but the general release version of the book is now available! 
Below is an archive version of when it used to be possible to obtain the collector's edition version, for posterity – as well as feedback from fans who have read it…
If you haven't obtained your inside story of 'Keeping The Dream Alive' by Raymond Thompson, creator and Executive Producer of The Tribe, then there is still a chance to get an autographed copy with extra collectable material.
Due to popular demand, another print run (the last one) has occurred which means that orders are available immediately (prior to going on official general release in December 2011).
What the fans are saying:
I loved Keeping The Dream Alive, I just couldn't put it down. An amazing book, it was a joy to read
– Wendy Young
OMG! Ray's book was awesome
– Sabrina Maree Beilharz
I read Keeping The Dream Alive on holiday and it's fantastic!
– Nicola Matthews
Couldn't put it down. Highly recommended
– Scottie Jacobs
You must buy that book if you haven't already – it's awesome and cool. I loved it. I am recommending it left and right. I have a feeling though Raymond Thompson is planning more anecdotes and stories to tell on life, working on The Tribe and the other series of Cloud 9. I would definitely love to read more if he does and support the idea of a volume 2 if one was planned.
– Shabbs
I was really touched reading it all. It's amazing to read what problems Ray had to face getting to this point in his life. Thanks to him for writing something this amazing. Thank you for keeping your dream alive so we all have this to enjoy.
– Sabine Kivits
Absolutely love the book
– Jade Moriarty
Loved the book. Couldn't put it down.
– Adam Lovejoy
Awesome…. highly recommended.
– Scott Richards
The book will also be available as a digital e-book from December 2011 across a number of outline retailers.
But this is the last chance to get an autographed version, with extra collector's edition material inside!