Have we got news for you?
ONLINE TRIBAL GATHERING 26th JUNE
We can now advise some more details about the live online Tribal Gathering!
The event starts on Sunday 26th June at 8 am (New Zealand time) – which is 9 pm on Saturday 25th June (UK time), or 4 pm on Sat 25th June (New York time).
The live event will be a 12 hour Tribe marathon – and the place?  It will take place on The Tribe's Official Facebook page (after considering different options for the event, we felt this would be the best place).
There will be a series of events and activities planned so we hope as many fans in as many countries and timezones will be able to take part during the gathering.
From quizzes, to special guest appearances, some official news being released (about Tribe books and more), we're excited about what looks like being a special day and event to experience!
We hope to be releasing the timetable/itinerary in about a week time, so check back here around 19th June for an update on exact details (UPDATED – We will have the definitive timetable of the Gathering available by 21 June which we will publish on Tribeworld.com, just waiting to work out some final arrangements from some special guests who are trying to appear on the big day on 26 June).
Hope you can make it and join the Tribe around the world online!
TRIBE VIDEO MESSAGES FOR THE GATHERING!
Thank you to everyone so far who have sent in Tribal messages for the Gathering.  We'll be compiling a special commemorative video which will go live the day of the Gathering – so you can keep on sending video messages (up to about 15 MB of size) to contact@entercloud9.com, the deadline would be 20th June (NOW 23 June is the deadline, we have been able to extend this!)  so this gives time for the team to put together the video of fan greetings and messages.  Don't be shy!  You can dress up in Tribe style or just be yourself!
FASHION, COSTUME AND MAKE UP PICTURES FOR THE GATHERING
Another element of the online Gathering will involve Tribe fashion and make-up – and you!  We'll have a (for fun) Fashion, Costume and Make Up competition so right now, you can send in your images (no limit to how many) of yourself or your friends dressed up in Tribe Style – you can either email these to contact@entercloud9.com or upload them to the Tribe's Facebook page.  We'll be having an online 'fashion parade' during the Gathering so the more photos the better!  The overall winner gets a special prize. The deadline for photos would be 20th June (NOW 23 June, we have been able to extend the deadline a little bit) so there's still some time to contribute to the Gathering this way.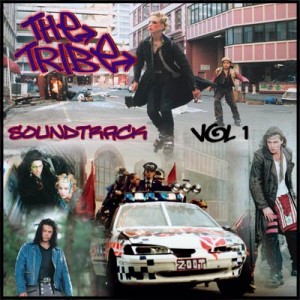 THE TRIBE SOUNDTRACK VOL 1 NOW AVAILABLE IN MORE STORES!
We are happy to announce that The Tribe Soundtrack Vol 1 is now available for digital download on more online sites, as well as iTunes, as is the Spirit Symphony, Atlantis High Soundtrack Vol 1, and Revelations Soundtrack Vol 1!
The albums can be bought as MP3s at Amazon, Emusic, Musicishere.com, gogoyoko.com, and more online sellers will be coming soon.
We hope to make a hard copy CD available in the future but in the meantime, have limited stock of sales copies which are available direct from Cloud 9.  Hope you enjoy!
WHAT'S NEW ON TRIBEWORLD.COM
This week there are 20 photos from The Tribe Gathering in the UK at the London Hippodrome from 2003, to coincide with the 20,000 Tribal online Gathering for 26th June.
Also check out the interviews with Antonia Prebble (TRUDY) and Tom Hern (RAM)!
And there's a special video from someone closely connected with The Tribe – an invitation to the online Tribal Gathering in 2011!
TRIBE BOOKS
Activity continues on the Tribe books planned for release in 2011.  Two novels will be published (one, the official 'what happened next' continuing story after series 5 and another novel set in Tribeworld) and both novels will be released as hard copy books, as well as digital e-books.  Exact release dates and details will be announced as soon as we are able.
We hope to make an announcement during the Tribal Gathering on the weekend of 25th-26th June.
THE TRIBE MOVIE
Development of The Tribe movie continues and the screenplay sounds like it will be incredible and a real must watch for all fans of The Tribe worldwide, both recent and from years back.  It's all top secret right now but as soon as we are able to announce news, you will hear it here first on Tribeworld.com and The Tribe's official Facebook page!