The Gathering – by Mark Rodgers
I arrived in Heathrow at 9:20 after a long drive from Co. Down and a short plane journey to London. I was here to see four very special people, Meryl, Matt, Beth and Caleb, I had dreamed of meeting all four since I began watching the tribe on which they play Ebony, Slade, Amber and Lex. The wait was nearlyover after years of excitment and adrenaline!!! I had paid for the flights out of my birthday and Christmas money and was so thrilled I might get to meet the cast I forgot to book the flights, luckily though a few hours before I got fares.
I travelled to the Hippodrome and as I reached the entrance a crowd of tribe fans with multi-coloured hair stood in front of me, the clothes, the shoes, people had put loads of effort into making their costumes, I really liked the girls who dressed up as Trudy, Gel, Amber, Ebony and Tai-San the costumes were identical! I had one too, red hair, a waistcoat complete with pegs, back to front googles, a light-upearring and face paint, it was just so amazing to have a real reason to go crazy and tribal!!!
The tour kicked off with the 24th episode of series 5, a corker certainly, we had the return of Alice, KC and the Guardian, a memory loss and a major attack on Mega – oh and a major revelation – minus Jess! It was difficult to watch the tribe as Meryl, Caleb, Beth and Matt came on stage, it was tough the tribe or … the tribe?!?
After that the cast went on to a sizzling question time where we let the cast get grilled about season six, their love life and their fav type of jelly! Caleb admitted he'd go for a girl like Tai-San, Beth told us that Bray may return, or not, Meryl told us of Java and Siva's life after she killed them (since they left the tribe) We also got to hear Matt's interests, he likes tennis
– me too Matt!!! Maybe we can play each other?
The time went in a flash and before we knew it Matt was singing some of his songs written by he and his band – he's set for international success – stay on the Tribe before you go though Matt!
I finally got up to Caleb and it was like seeing a God! Caleb was sleak, cool and really nice, I got his autograph and a picture. Caleb is nothing like Lex or I'd have been minced meat! It really was a dream come true meeting one of the cast, especially Caleb who is really cool!
Then it was time for Meryl's autograph, Meryl was looking stunning in her tribal costume as usual, I was chuffed to meet her, she was really friendly, sweet and awesome too! Love you Meryl. Again, wee Meryl was nothing like the hell cat she plays in the Tribe.
Next it was Beth, I can't describe Beth, because it wouldn't do her justice – friendly, sweet, funny and really pretty, she was one of the nicest people I ever met and she said she was really happy I came to see her from Ireland, I got another photo and left to see Matt.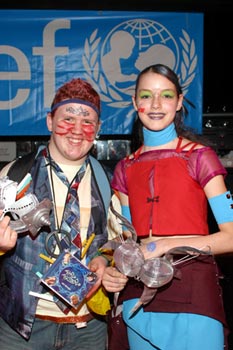 Matt is a legend, just like all four of the tribe cast I met, he was really nice, friendly and appreciated I had come – me too! Matt is seriously cool too.
After I got my autographs it was time for the tribe costume competition, there were some awesome designs and hairstyles, but only 20 fans were chosen to come on stage and model their styles.
When Matt motioned for me to come up I nearly started to cry, for the fifth time (I nearly cried when meeting each cast member), I got up on stage and got a free tribe music CD, not released in the shops yet! Wow! The album had some old favourites but loads of refreshing new tracks, my favourite being "Tribe Spirit".
More autographs were signed by the cast and then raffle tickets were sold for some cool prizes, a Chosen costume, a techno zapper Ebony used to fry her siblings and a signed script were just some of the things on offer. Everyone was buying loads of tickets and it was definitly not wasted money …
A group of young kids showed us their fantastic portrayal of a tribe scene they produced themselves, they were excellent and then the message about UNICEF's work around the world was highlighted.
Finally Meryl performed some tribe songs including "Spinning", she was really really good too. But wait a final surprise, the Best Fan awards hadn't been given yet and it was up to the cast to decide, Beth Allen said that some Irish guy had won and people pointed to me. Beth Allen was nearly guilty of giving me a heart attack as she pointed to me too and I walked towards the stage, helped up by Matt when I nearly fainted!!!
Another fan who had travelled all the way from Holland had also won, it was such an amazing feeling to be with the cast on stage, it was the best moment of my life and the cast were fantastic! Finally I was presented with a tribe techno mask used in the series.
It was the perfect end to a perfect day, I got my photo taken and waved bye to the cast! Hope to see you soon guys – any chance of coming to Ireland?
The funniest thing was on the way home on the metro to Heathrow, where everyone was giving me these really weird looks because I had my make-up still on! Whoops!
The day I had with the cast at the Hippodrome was fantastic, one of the best of my life, I hope there's many more series.
Congratulations to UNICEF and CLOUD 9 and of course the cast for making this possible. Hopefully UNICEF will make loads of money and keep the dream alive!

A very happy tribe fan
Mark