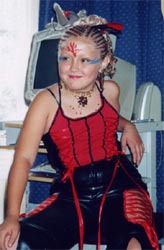 When I first found out there was going to be a Tribal Gathering I couldn't believe it.
I was going to see Meryl again, my first thought was what am I going to wear! I said to my mum I'd love to dress just like Meryl's series 5 clothes but I knew I wouldn't be able to. But my mum and sister had other idea's and got the material,ribbon,dyes and got to work,but first was my little niece Reegan who is 6 and likes Beth had her costume made just like hers she was so pleased and she looked so sweet, my other niece who is 7 months was dressed like Brady who's middle name is Meryl (oh! I wonder why).
I really couldn't believe how much effort my mum went to to make my costume for my tribal day it was looking better and better, as it got closer to the day I was starting to feel sick and so excited. I had bought a present for Meryl and couldn't wait to see her again.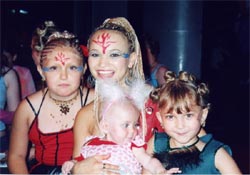 The night before came around quite quickly but I really couldn't sleep,but I knew I had to be up early so I put my Tribe video on and I soon must have fell to sleep ,the next thing I heard was my sister saying come on get up and come and get ready it was seven am and I had to have my make-up put on by my sister's boyfriend and he had to go to work. Then came the best bit I had to put on my costume I had waited so long to do that, and I really did feel like Meryl. Next my little neice had her beth bumps done and she put on her costume she looked so sweet, it made my mum cry when she saw me as she knows how much I love Meryl and The Tribe and she wanted to Keep my Dream Alive.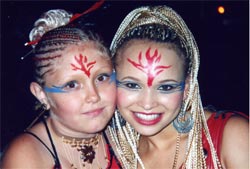 Time was getting on so at last we were on our way to the Hippodrome it took us about 45mins as I live quite close, everyone was looking at us like we were mad,but I think they are the ones who are mad if they don't know about the Tribe . When we got there I couldn't believe how many people had turned up and how everyone was dressed up, they all looked wicked.
I saw some people I knew from other places like the megastore and the airport they all looked really good,they all told me that I looked lovely and some even took my photo, and they said Meryl would think I looked good as well. I looked at my Dad's watch and only 5mins left until my dream became alive I starting to really feel sick,I was so exicted, the doors opened and everyone screamed we all lined up and at last I was in. The first person I saw was Hannah I was so pleased to see her cause I had looked forward to seeing her again she told us that we all looked beautiful and what a great effort we had made,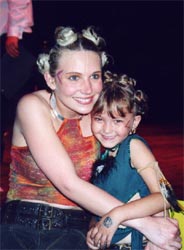 We then went and found somewhere to stand,before long a man came on the stage and said Hello and thanked us all for coming,he told us what was going to be happening it was so exiciting. A few moments went by and the lights went out and all I could hear was the tribe music and all I could see was lots of smoke then to my shock there was Meryl, Beth, Lex and Matt coming out of the floor it was amazing all my dreams came true all at once I felt sick excited and just couldn't wait to speak to them all.
We all then watched The Tribe and saw Alice, K.C and the Guardian I couldn't believe they were still alive – this series has been wicked. Soon we had to line up when our ticket colour was called. I first saw Lex he is so lovely and very nice looking my big sisters call him sexy lexy he signed for me and we all had a photo with him and we had bought the camcorder along with us because I didn't want to miss a single thing I spoke to him for a while, then I went to join the queue for Meryl.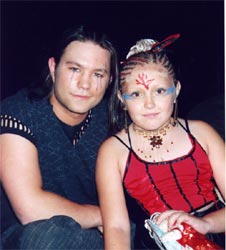 It was quite long and I was so nervous the closer I go the worse it got, then I was there and she said "oh my girl you have made it you look awesome!" who made your outfit it's like looking in the mirror you always make such an effort and even I managed a smile even while I was feeling so sick, I gave Meryl her present which was a new belly bar and a Tybear she was very pleased , she kept looking at me and it made me feel so proud to be one of her fans and to have such a nice person to think about and to bring my dreams alive. Meryl signed my photo of us that I had taken at the megastore and then I had lots of photo's taken, I really didn't want to move away from her she is so great and so pretty and I really love her hair, but it was now time to go and see beth as Reegan really loves her so I told Meryl I would come back later and she told me that she would be singing I have always wanted to hearher sing – my day could have never got any better so many dreams come true in one day.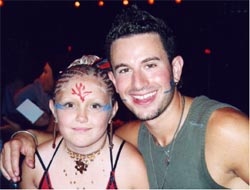 We next saw Beth my niece loves her I thought my niece was going to squeeze her to pieces. We all had our pictures taken with her and we had a little chat with her and she told us we really looked cool. We only had Matt left to see I was a little nervous as I had never meet him before but he was great chatting to us and having our photos with him. We then bumped into Hannah again and she asked if we were having a good time , how wouldn't we be having a good time everything was just perfect ,then the cast had lots of questions asked to them some of the answers were very funny and we learnt a lot about them and the Tribe.
Then we was told that the cast would pick the best dressed fans and they would call out 20 people then Beth called my neice Reegan and she went on the stage she looked so sweet and happy and then I could not believe my ears Meryl was calling me I went up on the stage I was so proud and I knew my mum would be. We all won the new Tribe Album and we all had our photos taken by someone from the Tribe. Soon after matt sang some songs I didn't know he could and he was very good, but of course I couldn't wait to hear Meryl.
Some children did a performance for Unicef and we had a talk from a lady from Unicef I didn't know fundraising could be so much fun. I bought some raffle tickets as there was some top tribe goodies up for grabs, but I wasn't lucky and didn't win I would have loved to win the teddy or the zapper but even if I had of won I could never have felt any happier than I was already feeling.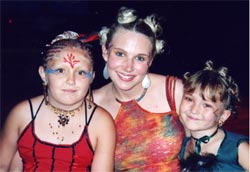 The moment I had been waiting for Meryl was about to sing and just to top it all she sang my favourite song You Belong To Me and Spinning it was really great. I managed to get back to Meryl for a while and sat chatting to her but before I know it my five hours of heaven was over and they had to leave.Then I had one more dream come true when I got home Meryl had taped me a message on our camcorder.
I know I will never forget this day and the memories are with me for life we now have photos everywhere in my house, I watch my tapes every day and listen to my album , just one more thing I have to do is win a comp to have dinner with them. But who said DREAMS DON'T COME TRUE cause thanks to you all and unicef and the good organisation of this day ALL MY DREAMS HAVE COME TRUE.
STAY TRIBAL AND
KEEP THE DREAM ALIVE.
Michaela – Age 10