Sunday – 24th August – Tour Diary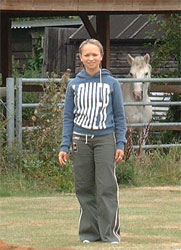 A sleep in this morning! Yay! And we got our washing done, hallelujah – things were starting to get pretty stinky in our suitcases!
After breakfast we jumped into the van and drove up to Cambridge for a charity cricket match, listening (and singing to) music all the way there. Everything from Coldplay to Beyonce. What a blast!
Several sore throats later we arrived at the venue which was somebody's back garden. But what a garden! It was really a huge field with a marquee and a cricket pitch. We parked ourselves on a blanket and nibbled at sandwiches whilst Mr. Rossy did his thing on the pitch. He looked pretty good in his whites and he didn't let the side down either! Nor did the English weather and we got a good roasting in the sunshine and caught up with all the gossip from Mattdogg while we cheered Caleb on.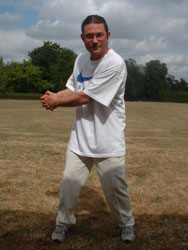 One of the cricketers (a professional) got talking to us as he had spent some time in New Zealand. It turned out that he had met Meryl's mum and Megan at the braiding shop in Wellington and as he does a spot of modelling now and then had also appeared as the policeman in Atlantis High! A small world or what?
A great day in the beautiful sunshine, great company and all for a good cause (ABC – for children in Brazil). What a way to spend a Sunday afternoon. Caleb's team won the match but at a cost. Poor old Mr. Rossy had been stung badly by stinging nettles when he had to track down the ball in the undergrowth. He's okay but a bit sore – we gave him plenty of sympathy.
We journeyed back to London and stopped on the way for some dinner. Caleb had a steak and Guiness pie which he loved – so much so that he could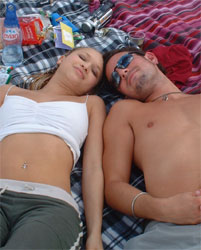 have easily eaten another one! But that's probably because he made us all try it and there wasn't much left for him!
We eventually got back to the hotel at midnight and got into our comfy beds
for a good sleep. We're taking the day off tomorrow so that we can pack and get organised for
Atlanta.
We're really looking forward to Dragon*Con and have heard that there will be heaps of Tribe fans there, some even travelling from the UK and Europe! Don't forget to read all about the event as it happens, right here.
Tribe Tour 2003 – Bringing The Dream To The World…